Business owners and residents of Petoskey, Michigan, have long enjoyed the bustling tourism and amenities of Little Traverse Bay of Lake Michigan. But owning properties close to the water comes with a potentially high price, with water damage liable to cause extensive damage to a building's foundations.
At Bluebird CFW, we draw on our decades of experience building and repairing foundations to deliver the highest quality service for residential and business property owners. In addition to foundation repair, we help address many fundamental causes of structural damage, including full basement and crawlspace waterproofing and seawall repairs.
Let's break down some of the key causes and problems associated with foundation damage and the methods we use at Bluebird CFW to ensure your property is structurally sound.
The Importance of Foundation Repair
Over time, a building's foundations are prone to damage and wear and tear from various sources. As the ground around the home shifts over time, it weakens its foundations, causing cracks in the walls. If left unresolved, the building can even be at risk of becoming completely unusable and dangerous to residents.
If left unresolved, foundation damage can easily lead to a knock-on effect throughout a building. It can include:
The appearance of cracks in internal and external walls
Jammed doors and windows due to warping of frames caused by the foundation tilting
Uneven floors and damage to floorboards and other fittings
Additional damage as a result of water leaks and excess mold
When these problems are combined, the cost of rectifying foundation damage and restoring the property to its original state can run into tens of thousands of dollars. Additionally, the health and safety of your family or employees are also at risk, making it essential to take action before it's too late.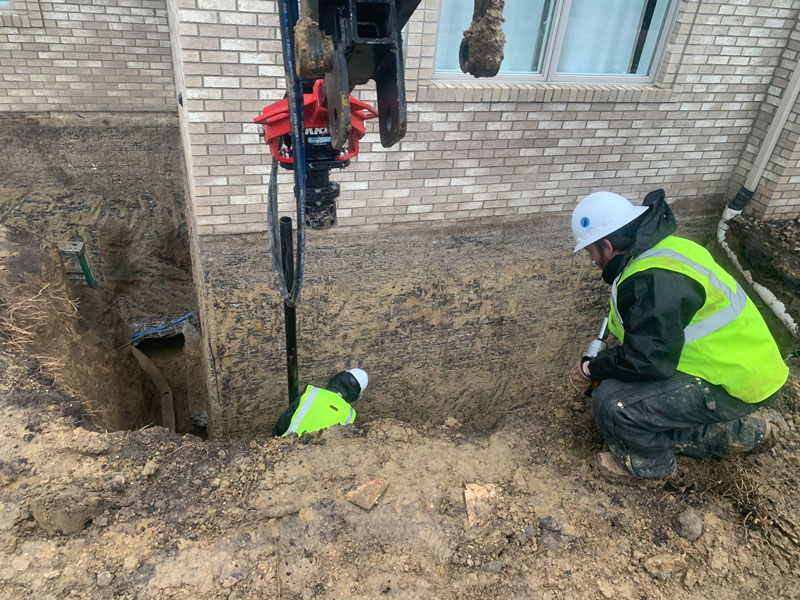 Foundation Repair Methods by Bluebird
Bluebird CFW is a reliable provider of foundation repair services in Petoskey, offering a range of effective methods to address foundation issues. With our expertise and commitment to quality, we employ proven techniques to restore the stability and integrity of your property's foundation.
Our team of professionals is well-versed in various foundation repair methods, including underpinning, helical piers, slabjacking, and carbon fiber reinforcement. We carefully assess the specific needs of your foundation, taking into account factors such as soil conditions, the severity of the damage, and the type of structure. Based on this assessment, we develop a customized repair plan that utilizes the most suitable method or combination of methods to address your foundation issues.
Whether your foundation requires stabilization, leveling, or reinforcement, you can use Bluebird CFW to implement the appropriate solution with precision and expertise. Our goal is to deliver long-lasting results and ensure the safety and longevity of your property's foundation.
Contact Bluebird for Foundation Repair in Petoskey!
If you're in Petoskey and need professional foundation repair services, look no further than Bluebird. Our unwavering commitment to quality and expertise in the field makes us the go-to choice for all your foundation repair needs. Our experienced team understands the unique challenges that can arise with foundation issues in the Petoskey area and is well-equipped to handle them.
Whether you're dealing with cracks, settlements, or any other foundation problem, we have the knowledge and skills to provide effective solutions. When you contact Bluebird for foundation repair, you can expect prompt and reliable service, thorough inspections, customized repair plans, and top-quality materials and techniques.
We prioritize customer satisfaction and work diligently to restore your foundation's stability and strength, ensuring your property's long-term safety and value. Contact Bluebird today and let us handle your foundation repairs in Petoskey.
Bluebird's Complete Range of Services for Petoskey, MI
Additional services you can access through Bluebird CFW include:
Complete basement and crawlspace waterproofing to remove all dampness and moisture while preventing mold accumulation.
Construction of additional buildings and structures, such as guest houses and decking areas, built using the most durable and long-lasting piering systems available.
Comprehensive consultations on your property's condition, with a complete breakdown of our recommended course of action.
Our evaluations include a full survey of your building and the surrounding land to determine the soil and water content impacting its structural integrity.