Michigan is an excellent location for new construction, but some areas may have poor soil conditions. To ensure a structurally sound new build on poor soil, you must transfer the loads deeper into the ground on more stable soil.
Bluebird CFW provides new construction helical piers and custom foundation services for homeowners, engineers, and contractors. Often we begin the new construction process with a test helical. During this step, we drive a test helical down into the load-bearing strata, the helical is removed, and the hole is filled. With this information, our structural engineer can determine how deep the helical need to be driven to stabilize the foundation or support the new foundation/structure.
Our quality helical pier service in Michigan is specifically designed for a wide variety of new construction applications, including high water tables, fill areas, expansive soils, and areas of unstable soil that require piering.
Custom Helical Piers For New Construction Foundations
The initial test helical will provide the information we need to determine the best new construction helical piers for the foundation solution for your project. New construction foundation waterproofing typically involves applying a waterproof coating or membrane to the foundation's exterior to prevent water infiltration and ensure the longevity of the building's foundation. At Bluebird, we provide a wide variety of helical piers for installation so that we can find the perfect one for you.
Our helical pier diameters include:
2 ⅜"
2 ⅞"
3 ½"
4 ½"
5 ½"
6 ⅝"
8 ½
Based on the specifications of your project, we can create custom orders. Our dedicated team can craft the helical pier diameters that your project needs. Every single one of our helical shafts and extensions is created from durable carbon steel with yield strength starting at 65 ksi.
Get High-Quality Helical Piers For New Construction In Michigan
You can always trust the quality of our helical piers. Each component is coated with a thermoplastic coating which is a highly durable option. The thermoplastic coating adheres to the Acceptance Criteria for Corrosion Protection of Steel Foundation Systems Using Polymer (EAA) Coatings (AC228). This coating provides an incredible 50-year lifespan and is a sustainable solution that you can depend on.
Bluebird helical piers provide great benefits to new construction. They are an excellent choice for mitigating the risk of conventional concrete foundations in new builds in the soil in Michigan, but they can also be used to remedy existing foundations in need of repair. Some of the powerful ways we can leverage helical piers include:
Tension and compression applications for foundations, solar fields, launch pads, and more.
To tie back retaining walls, guy towers, and basement walls.
Lightning poles and tower foundations that require shear and overturning.
Supporting foundations in duress or providing the stability to existing foundations to handle heavier loads.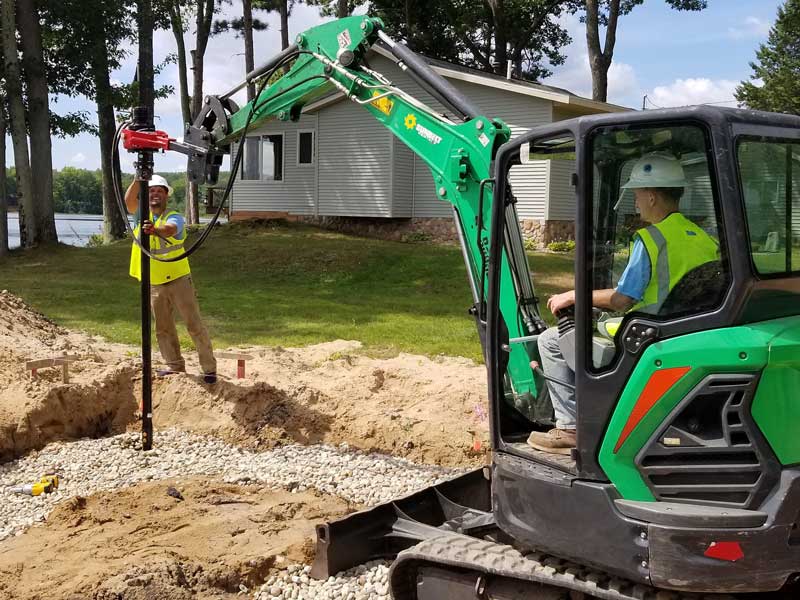 Contact Bluebird CFW For New Construction Helical Piers In Michigan
Helical piers offer many key advantages. They provide predictable, reliable results that your team can count on. Helical piers can hold design loads for very specific soils, which is incredibly helpful for new construction. Our team can install them in any weather, and we require very limited access to do so. We don't have to perform excavation spoils for installation or removal. Immediately following installation, the helical pier deep foundation system can be loaded.
Our team is here to help with commercial and residential new construction needs with our helical pier system. We will answer any questions you may have and help you find the right helical piers for your job. To learn more or schedule your consultation, contact us today.