Did you know that you can experience the benefits of increased natural light and improved ventilation with egress window installation in Michigan for your home? Whether you are looking to install a new egress window for your Michigan home or repair an old one, Bluebird CFW provides a comprehensive service with egress window solutions by experts.
Basement Window Egress Installation In Michigan
In Michigan, like most places, an egress window is required in any "living" space that can be used for anything from a home office to an extra bedroom. This goes for the majority of residential homes, including any basement space used for sleeping or general "living." In other words, if you spend a lot of time there, you'll need an egress window installed.
The good news is, if you want to finish your basement and add an extra bedroom or even a home office, it's time to call egress window contractors to install a basement window. This will not only add to your home's "living" space but also your home's resale value, especially if you are looking to add an office for telecommuting for work or even a home-based business.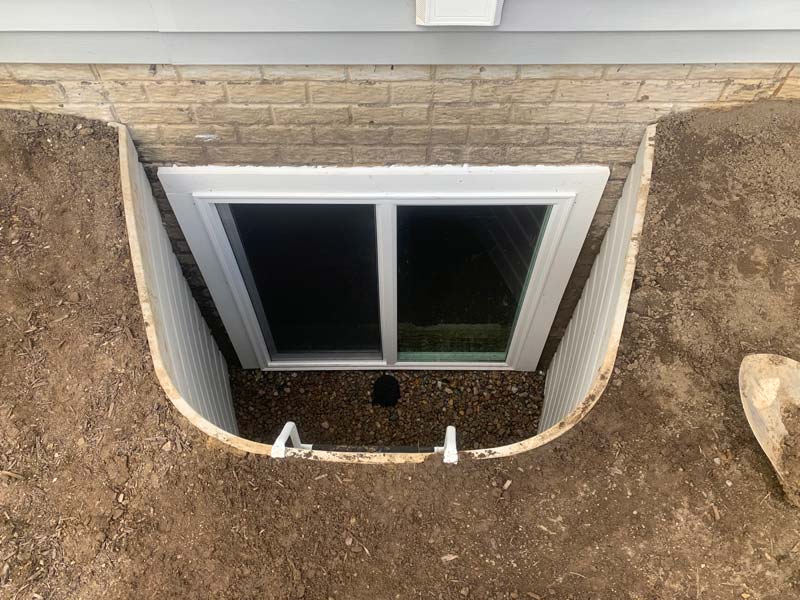 Bluebird CFW Foundation Repair and Waterproofing installs basement egress window installation near you. The steps that we take for egress window installation are:
Order all parts for your egress window installation
Pull all required permits
Excavate holes for window wells
Install windows and wells, as well as covers or grates
Ensure all seams and trims are properly sealed and insulated
Backfill land to return the exterior to its original look as much as possible
What Is An Egress Window?
An egress window is a window that's a specific size that allows an alternative way of exiting a place like a bedroom. In this case, a bedroom in a basement.
The best way to think of it is a window that is smaller than a door but big enough for anyone to climb through to get out, especially in an emergency. It's also big enough for a firefighter, for example, to use to gain access to that same space.
In a home, the majority of windows in bedrooms are already big enough to climb through. However, a basement is a different matter. Not just because the majority of the basement is underground but also because you need enough room to climb out and away from the basement. This means taking extra steps to waterproof such a large window against water intrusion and flooding with proper waterproofing material, drainage, and designs. In order to install one, you need to call an experienced egress window specialist.
Requirements For Egress Window Installation In Michigan
The main things to remember for egress window installation for your Michigan home are the window size requirements and the requirement for a window well adjacent to the window's exterior.
Each egress window needs to be at least 22 inches wide and 24 inches tall. So, you can see, if you don't have an existing egress window and well, why a well becomes necessary for proper egress to ensure the well's depth and external space is greater than the window's height and width.
If you don't have an existing egress window, structure modifications will more than likely be required, as well as excavation around the window's location for the well. Egress window wells are usually either a rectangular or semi-circle shape and allow for enough room to exit and gain entry to the space.
Because of the complexity of an egress window installation, trusting our professionals, who understand the work involved, as well as all the permit and building code requirements, is often your best option.
We will do a quality job the first time, including the possible structural modifications and excavation that go with it.
How To Install An Egress Window?
Installing an egress window is a challenging and technical task. It requires the right tools, equipment, and knowledge to ensure a successful installation. Therefore, instead trying to DIY, it is best left to a professional with relevant skill set. The cost of an egress window in Michigan can vary according to your specifications so make sure to consult properly with your contractors.
1. Preparing The Site
First, it is important clear the area around the window, remove any obstacles, and protect any surrounding surfaces that could be damaged during the installation. Then, our team will dig a hole big enough to accommodate the window well, to ensure it is leveled with the ground and has proper drainage.
2. Concrete Cutting
If your foundation or any masonry needs to be cut, our team will handle it with our special tools and equipment. In addition, our installers will ensure the watertight integrity of your foundation is maintained and any concerns or issues while installing will be immediately brought to your attention with recommendations on the proper way forward.
Concrete cutting is a common obstacle when it comes to basement egress window installation. You can rely on our experienced team not to compromise your foundation's integrity while still getting the work done in a timely manner.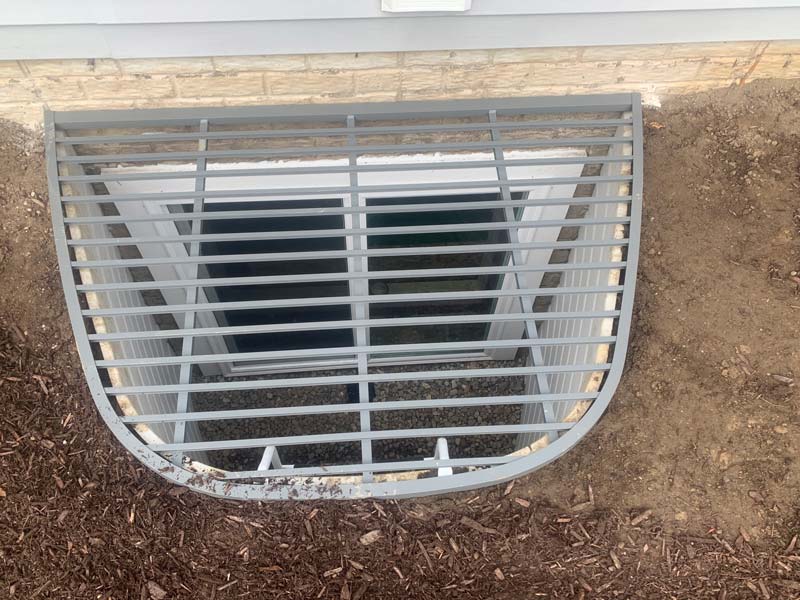 3. Window Well Grates and Covers
If you're wondering if you'll also be required to have a window well grate or a well covered with an egress window in Michigan, the answer is yes. By code, they are required to pass any building inspection upon installation of an egress window.
That doesn't mean they have to be unattractive or unappealing to the eye. In addition, they add extra layers of protection to your home by keeping the occasional animal out of your well. They also keep yard debris, leaves, and even snow from accumulating in your well. Lastly, they help with drainage by keeping water away from your window, or water building up in your well during times of heavy rain.
Egress Window Installation & Repair Company In Michigan!
Speak with one of our experts today for an estimate or help with any questions! We are the best egress window installation & repair company in Michigan with 5-star customer satisfaction rating. You can consult us about all your egress window installation or basement window repair needs. We look forward to hearing from you!