Mold is a huge problem for most buildings, especially in locations where there's lots of humidity. Without proper treatment, mold can grow and pollute the air. One way to combat this problem is through crawlspace encapsulation. Crawlspace encapsulation is the sealing of areas where moisture thrives and turning them into dry spaces.
At Bluebird, our team of professionals can help you turn your crawlspace into a clean one. Bluebird specializes in waterproofing systems to ensure you don't have any more leaky, musty structures. Here is what you should know: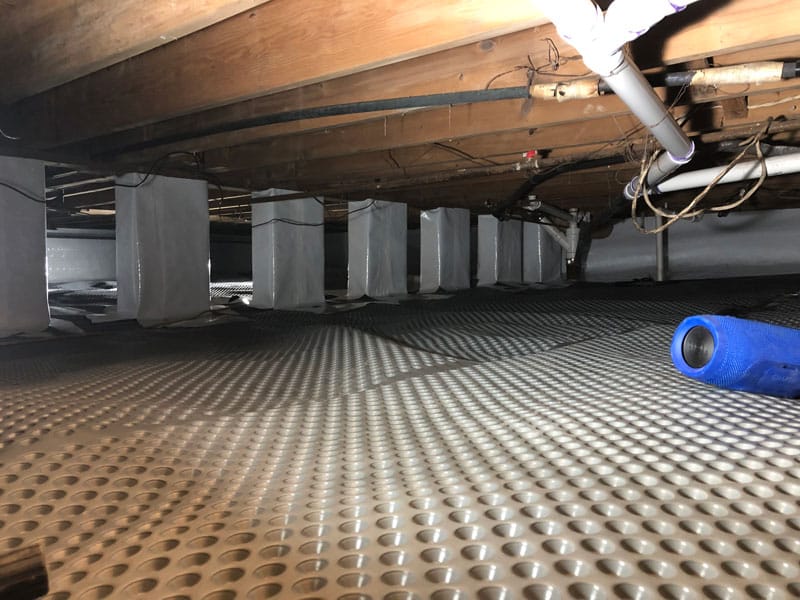 What is a Crawlspace Anyway?
If your Ypsilanti home does not have a basement, then it more than likely has a crawlspace. Crawlspaces tend to be tight and hard to access unless you crawl through them, which is of course where the name originates. Most homeowners do not visit their crawlspaces very often unless they are storing something away or looking to access plumbing or wiring for repair or maintenance work.
However, because the crawlspace is so close to the ground, it is at much higher risk of experiencing flooding than other areas of the house. With that in mind, homeowners will want to take time to check on their crawlspaces from time to time.
Why is Crawlspace Waterproofing Necessary?
There are many reasons to waterproof and encapsulate crawlspace. As mentioned earlier, mold is a serious problem that can cause toxins to float in the air, allowing for the spread of sickness. Breathing mold for long periods of time can create respiratory problems, such as allergens. Extended exposure can even cause eye irritation, skin irritation, and nasal and sinus congestion.
Moist areas also allow for insects to breed and grow, such as termites. Termites thrive in wet areas and will eat away and destroy your building's foundation if made of wood. Termites have a symbiotic relationship with mold, meaning they work together and help one another benefit. This can be a huge problem for your property if not taken care of soon.
Therefore, waterproofing your building's crawlspace will allow for better air quality, prevention of bugs and mold, and allow for structure stability.
How to Know When You Need Waterproofing
You will need assistance when several signs appear, such as cracked walls. Cracks in the walls mean there is something wrong with the foundation of the building and should be taken care of as soon as possible. If not taken care of immediately, larger problems such as water leakage or animal invasion can occur. Water leakage can cause an unstable foundation, and the invading animals could damage electrical wires and cables from chewing on them.
Speaking with a Bluebird expert will help you resolve these issues before they become bigger.
Call Bluebird Today
With years of experience, Bluebird ensures your buildings stay safe and clean. We fix both residential and commercial buildings, and they also lift concrete slabs to even out crooked areas. Be sure to seek help at Bluebird for any building repairs that need to be completed. Outside of crawlspace waterproofing, we also offer foundation repair and basement waterproofing throughout Ypsilanti.