Too often, people associate the basement with being a dark, damp place, at least if it is not specially designed to be a hub for socializing, working out, or playing video games.
The truth is that a healthy basement should be dry no matter how you choose to use that space. Unfortunately, because basements exist below ground, water often finds its way into them. Add in the perfect dose of humidity, and you have the ideal home for mold and mildew.
Water damage can have a significant impact on homes and businesses in Ypsilanti, Michigan. It can can cause structural damage, mold growth, and damage to personal belongings. It's crucial to address water damage quickly to prevent further damage and to restore the property to its pre-damage condition.
At Bluebird Foundation Repair & Waterproofing, we offer basement waterproofing solutions in Ypsilanti. We want to help you with these problems before they grow and become more costly. Still not convinced? Here's what to know about water damage: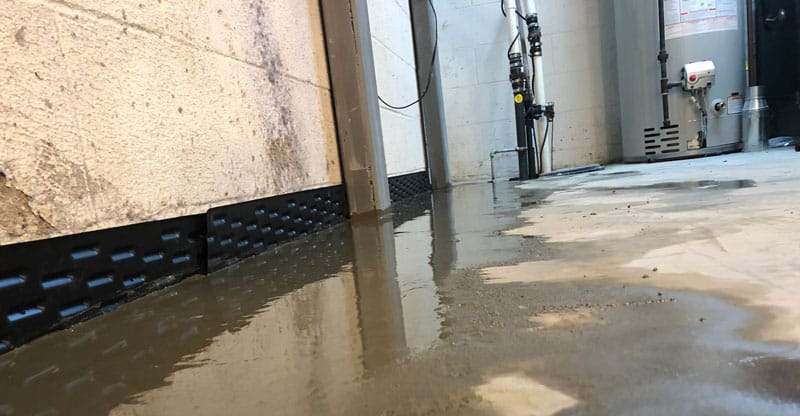 Importance of Water Mitigation in Ypsilanti, MI
When water damage occurs, it is essential to address it quickly to prevent further damage and mitigate the risks of mold growth and structural damage.
Water mitigation involves various techniques to remove excess water, dry out affected areas, and restore damaged property. This process can prevent long-term damage, reduce repair costs, and protect the health of the building occupants.
Therefore, it's essential to have a reliable water mitigation company in Ypsilanti, to respond quickly to water damage emergencies.
Advantages of Basement Waterproofing
Mold and mildew prevention is just one perk of getting your basement professionally waterproofed. You can also enjoy the following benefits:
Improve Air Quality – When mold and mildew are absent, it is much easier to enjoy nice, clean, fresh air in your home. This is especially important for people who have allergies or asthma. Not to mention, mold can cause other illnesses as well.
Increase the Value of Your Home – Every prospective homeowner's dream is a house that they and their family can move into without much fuss. A waterproofed basement offers this option. Not to mention, water damage in and of itself can greatly reduce the value of a home.
Remodeling Made Easy – If you are planning to transform your basement into a special place to unwind, you should probably take care of waterproofing first. Waterproofing first ensures that you won't have to move around furniture or risk ruining a perfect remodeling job. Also, a basement that is not waterproofed is at a much higher risk for damage. Who would want their brand new game room or private gym flooded before they even get to enjoy it fully?
Keep Insurance Costs Down – Even if you have good homeowner's insurance, water damage is far from cheap; you will pay in the long run. That's because water damage claims raise insurance rates. You can keep your insurance rates at a manageable level by waterproofing your basement now.
Basement Waterproofing in Ypsilanti, MI
At Bluebird Foundation Repair & Waterproofing, we understand that the safety and comfort of your home is of utmost importance to you and your family. Water damage can quickly make a happy home feel damp, dreary, and uncomfortable. On top of that, it is costly to fix when it becomes very severe. You certainly want to put that money to better use elsewhere.
Lucky for you, you can trust us to attend to your basement waterproofing needs with care and compassion. Basements vary widely in design, layout, and size and so we know that we have to approach your basement as a unique place. We have been doing this for 20 years collectively and still find that that is true.
So what do you say? Ready to see what high-quality basement waterproofing looks like? Outside of basement waterproofing, we also offer foundation repair and crawlspace waterproofing throughout Ypsilanti.
Call us now!