Seawall Repair Services in West Bloomfield, MI
West Bloomfield, MI is near many lakefront and riverfront properties that are valuable, beautiful, and incredibly popular among homeowners. However, if you own a property on the banks of a river or lake in West Bloomfield, MI, your home's seawall might be vulnerable to damage. If you notice signs of damage or are interested in fortifying your seawall, we at Bluebird CFW can help! We're here to help you repair your seawall so it can withstand the test of time, as well as improve your property value and protect your home from erosion. Read on below to see how we can help!
What are Seawall Repair Services?
A seawall is a vital piece of engineering that surrounds the entirety of your property, protecting it against damage from the surrounding water. The seawall provides a barrier that protects your home and property against flooding, erosion, and other hazards of surrounding bodies of water.
Although they are incredible pieces of engineering and technology, seawalls are still prone to damage over time, or if installed or repaired incorrectly. That's why our team of experts at Bluebird CFW are trained to recognize signs of damage in your seawall and repair it as quickly as possible. We'll use the best materials and technology available in the process.
Seawall Repair in West Bloomfield, MI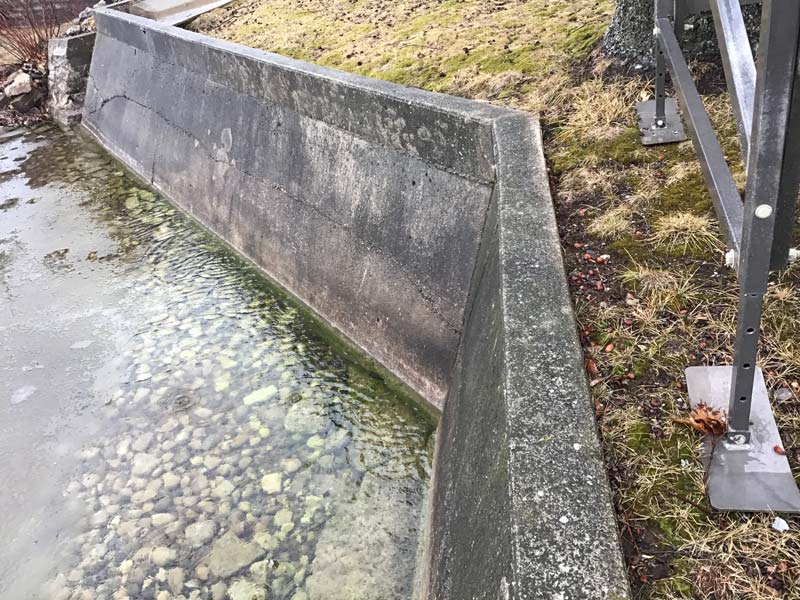 There are various signs you need to look for that indicate your seawall is damaged and in need of repairs as soon as possible. Some of these signs might be hard to spot to the untrained eye. For instance, if you see a pool of water forming at the base of your property near your seawall, this can indicate damage to your seawall and subsequent flooding.
Voids in your seawall will appear as small sinkholes around your property. This can also indicate the presence of air holes behind your seawall, indicating that your seawall now has cracks and pressure is not being maintained. In addition, there will be visible cracks in your seawall that you might notice horizontally across the wall, and also cracks in the cement caps at the top of your seawall.
If you notice any of these signs, call Bluebird CFW to come to assess and repair your seawall. We offer seawall repair services such as:
Proper sealing of your seawall: Bluebird CFW uses only high-quality materials such as polyurethane sealant or resin to fill any type of crack you have in your seawall, whether in the panels or the caps. These types of sealants do much more than act as a temporary fix, and permanently reinforce your seawall to make sure it withstands additional water pressure and is protected against damage.
Pressure release technology: Our unique pressure release technology provides a permanent solution for your damaged seawall. After filling in any voids with our special agent to make your foundation rock solid, we'll install channels into the seawall panels to help regulate hydrostatic pressure. This allows your seawall to be permanently protected from the elements and ensures that it will no longer be susceptible to mounting water pressure.
Why Get Professional Help for your West Bloomfield, MI Home?
Sadly, many seawall repair specialists don't use the proper tools to repair cracks in your seawall. Ignoring issues with your seawall might also lead to bigger costs and more damage to your seawall in the long run. It's best to reach out to Bluebird CFW to get expert care for your seawall repairs and inspection services.
Seawall Inspection
Seawall inspections are one of the best tools to help ensure your seawall remains intact and is free of damage. Although you can conduct seawall inspections every 5 years, we recommend conducting them sooner if you notice signs of damage, or if your area has undergone significant inclement weather. Inspections can also be helpful for seawalls installed in older properties.
At Bluebird CFW, we'll inspect your seawall for signs of damage, and will continue to improve your seawall's structure so it stays safe from future damage. Inspections include checking for:
Cracks
Pools of water
Soil Erosion
Voids
Leaning or bowing walls
Seawall Stabilization
Helical piers use high-quality steel and state-of-the-art technology to help improve the stability of your seawall. Our helical pierss combined with our filling treatments for cracks and pressure-release technology help create a seawall that will be stable against the elements for years to come.
Schedule Seawall Repair Services Today In West Bloomfield, MI
You should never leave your seawall repairs to the last minute, and should get inspection and maintenance services done right away if you notice signs of damage! Call us today at Bluebird CFW to get started on your journey toward protecting your home! Our staff is ready to help and will schedule you for seawall repair and inspection services in West Bloomfield, MI! Additionally, we also offer repair services for foundation repair, basement waterproofing, and crawl space waterproofing in West Bloomfield!