As a homeowner in the Midwest, you may see your basement as many different things: a hangout on Friday nights, a storage facility for unworn clothing, a sanctuary from storms. While these things are all definitely worthwhile, one thing could threaten your special underground space: water damage.
Water can get in through foundation cracks or broken pipes, which can cause devastating and costly damage that will only grow more severe with time.
Protecting your basement from water damage is essential for protecting your entire home. Bluebird Foundation Repair & Waterproofing is here to help with all of your basement waterproofing in Waterford Township, MI.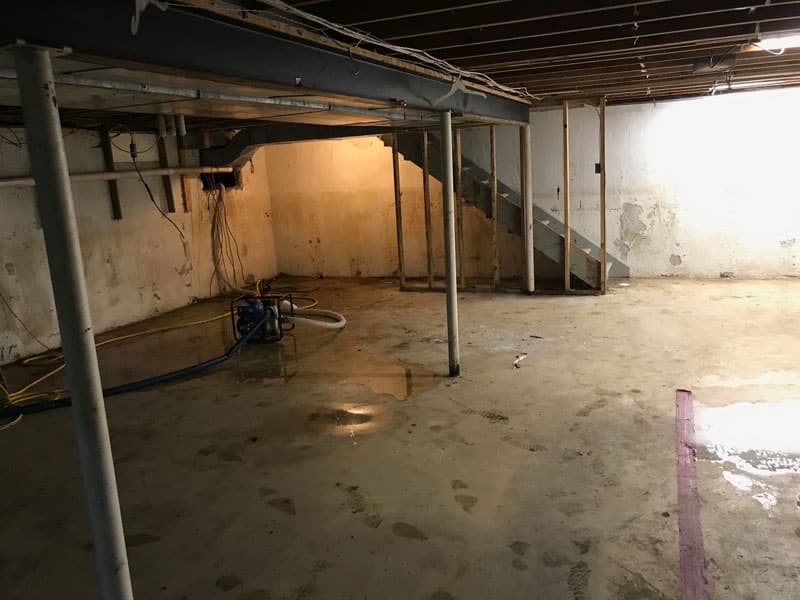 Causes of Water Damage
Several factors, including leaks from plumbing fixtures, appliance malfunctions, roof leaks, and natural disasters such as floods or heavy rains, can cause water damage. Such as:
Poor ventilation and improper grading around the foundation can also lead to water damage by allowing moisture to seep into the building.
Structural problems, such as foundation or wall cracks or clogged gutters, can also result in water damage. In some cases, even a minor issue, such as a slow leak, can go unnoticed for a long time, causing serious and extensive damage to the building.
It's important to regularly inspect your home for signs of water damage and address any problems as soon as they are detected to minimize the risk of further damage and costly repairs. Waterproofing is the best way to safeguard your basement from water. Bluebird is here to help with all your water damage in St. Joseph, MI.
Reasons for Basement Waterproofing
Basements with moisture are synonymous with mold and mildew. Waterproofing is key for keeping moisture out and preventing all of the problems excess water will cause. Here are the top benefits basement waterproofing offers:
Improved Air Quality – Mold and mildew are incredibly harmful to your indoor air. They detract from the air quality and can be very harmful. People with asthma and allergies tend to struggle the most with the health effects of mold. By keeping water out, you can keep mold out.
Lower Insurance Costs – Water damage is incredibly expensive, and there's a good chance you'll need to make an insurance claim to handle it. Oftentimes, water damage sneaks up on homeowners, accumulating over time. By the time homeowners realize they have water damage, it's severe. Waterproofing prevents water damage, which limits insurance claims and keeps premiums down.
Higher Property Value – Future buyers look for signs of water damage. Water problems will scare off many buyers, preventing you from buying your home for what it's worth. Protecting your basement protects your home from water damage, which preserves the value of your home. That way, you can sell it for what it's worth when the time comes.
Remodeling Preparation – Before beginning a remodeling project on your basement, waterproofing is vital. Waterproofing is the first step to finishing or updating your basement. Waterproofing will keep water out so that your remodel will last for years to come.
Basement Waterproofing in Waterford Township, MI
Basement waterproofing offers many key advantages for homeowners. It's crucial to keep water and moisture out of your basement. When water gets in, it causes a lot of expensive damage.
The best way to keep your basement dry is with professional waterproofing. Waterproofing experts have the tools and experience that you need to effectively seal your basement.
Bluebird is here to help with all of your basement waterproofing needs. No matter how big or how small, our team will get the job done right. With over 20 years of experience, the Bluebird team always provides quality service. We focus on delivering excellent craftsmanship with impeccable customer service for every single project.
Enjoy peace of mind with Bluebird basement waterproofing. To learn more about how we can help or schedule your appointment, contact us today! Outside of basement waterproofing, we also offer foundation repair, crawlspace waterproofing and seawall repair throughout Waterford Township.