Even the most resilient foundations may eventually need to be repaired, especially when you take into account Michigan's relentless winters. Most foundation repairs are minor when addressed quickly. However, assessing or repairing foundation damage can be a challenging task for the average homeowner.
That's exactly what Bluebird is here to do! We provide foundation repair in Warren, MI to solve all your foundation needs. Foundation repair is a crucial service that will help preserve your home!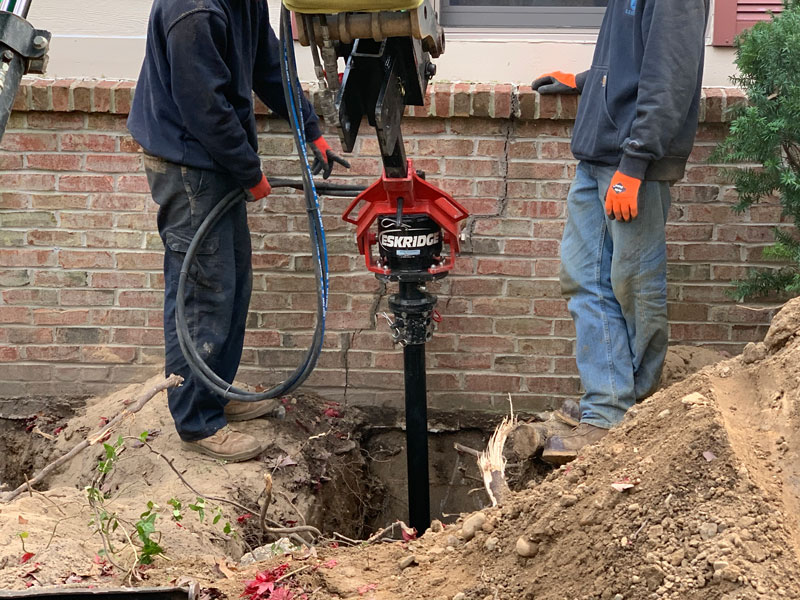 What is Foundation Repair?
Foundation repair is the process of fixing issues related to the foundation of a building. The foundation is a critical component of a building's structure, providing support and stability for the entire building.
To stabilize and reinforce the foundation, foundation repair involves various techniques, including installing piers, underpinnings, and wall anchors. If you need more information, you can contact us for foundation repair services near you!
Damaged Foundation Signs
Your home's foundation impacts every area of your home. If the foundation has issues, you may notice it in the walls and floors of your home.
Here are the most common signs of damage to watch for:
Cracks in Floor- Cracked floors are a big warning sign. If your foundation settles, it may crack your ceramic or concrete floors. The cracks may spread or grow as time goes on.
Cracks in Drywall – Drywall cracks can be hard to see at first, but they will worsen if the underlying foundation problem is not addressed. Drywall cracks happen when your foundation shifts and the walls move with it.
Cracks in Brickwork – Much like drywall, brickwork will also crack if you have foundation problems.
Cracks in Corners – When your foundation shifts, it will also shift your siding. You may notice growing gaps between siding and cracks in corners.
Leaning Chimney – If your chimney is leaning, there's a high chance you need foundation work. The chimney should be standing straight and tall.
Cracks in the foundation can occur for various reasons, such as moisture, temperature changes, or soil settlement. Foundation crack repair involves several techniques, such as epoxy injections, sealing, or carbon fiber strips. These methods help to stabilize and reinforce the foundation, prevent further damage, and prolong the life of the building. Contact us for all kinds of foundation crack repair in Warren, MI.
Reasons for Foundation Repair
Foundation issues are not something that you want to leave be. They will only progress over time. Do not let those seemingly minor cracks fool you; behind them is something much more serious. If you allow them to expand, your entire house may suffer.
Taking care of these problems early will save you lots of time, trouble, and money. Not to mention, you are also investing in maintaining your home, which will pay off when it comes time to sell your home.
The Best Foundation Repair in Warren, MI
If any of the above problems seem familiar, take a deep breath and relax knowing one thing is certain: at Bluebird, we know how to address these issues.
We use the highest quality products for our Warren Foundation repairs and do not stop until we find the perfect solution to your foundation problems. Masterful work matters to us, and we want that to be reflected in everything we do.
We use a wide array of repair methods to address foundation issues. For lightweight structures, we rely on helical piles and piers. However, we also use deep-driven steel piering systems and heavy-duty piled for very heavy structures. To support damaged beams and walls, carbon fiber is our choice material. For falling slabs, we will reach for the slab brackets.
Now is the best time to address foundation issues and restore the integrity of your structure. Bluebird is here to help you today with Warren foundation repair. Contact us today to learn more or schedule an appointment. Outside of foundation repair, we also offer basement waterproofing and crawlspace waterproofing throughout Warren.