Whether you own a waterfront property near Boardman Lake, or have a property that sits on the edge of Lake Michigan, there's no denying that there are many gorgeous homes and commercial businesses in Traverse City, MI, that are amplified by the surrounding waters. If you own a property Bluebird CFW recommends getting the help of our seawall repair and inspection services in Traverse City, which can help you keep your mind at ease and ensure your seawall continues to protect your property!
What is a Seawall?
A seawall is a type of barrier that is installed onto the surrounding edges of your property. Its main purpose is to protect your home from the effects of water damage, flooding, and other harmful effects of the surrounding waters. These seawalls can be massive, and they play an important role in preventing the foundation of your home from becoming completely eroded and damaged.
Seawalls can be placed on homes and commercial properties alike, as well as boat docks. All of them require continued maintenance services as well as repair services to be started right away in case of an emergency.
Signs you Need Seawall Repair in Traverse City, MI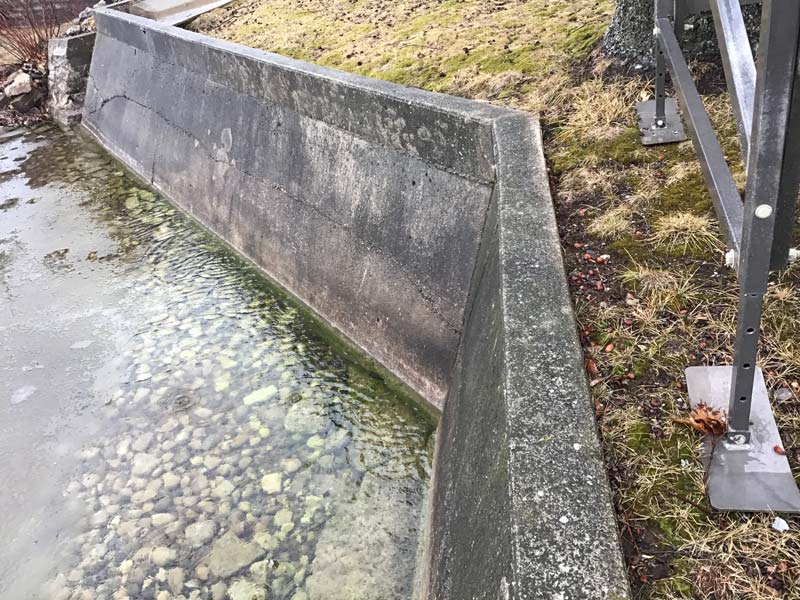 If you have a seawall installed on your property, you should be aware of the many signs of damage that could be impacting your seawall and affecting its ability to adequately protect you. Some of the signs of seawall damage that you will need to be aware of include voids or sinkholes around your property. These voids or sinkholes might appear like holes made from small animals, when in actuality they indicate that there is soil eroding away from your property due to a damaged seawall.
Cracks that appear horizontally on your seawall are also another sign of damage, as are cracks that form at the top of your seawall's concrete caps. In addition, if you notice any flooding or pools of water forming at the edge of your seawall, this could also be a sign that your seawall is damaged.
If you notice these signs, we can help initiate repairs for your seawall, which will include:
1. Proper sealing of your seawall: At Bluebird CFW, we don't skimp when it comes to using sealants. Instead of using inferior sealants such as Earth, dirt, or gravel to repair your seawall and the surrounding areas, we'll use sealants such as Polyurethane and resin to improve your seawalls' stability and permanently repair cracks.
2. Pressure release technology: Cracks in your seawall usually form due to issues with hydrostatic pressure and pressure forming behind your seawall. Our unique SW-RP1 material will be injected into the foundation behind your seawall, providing a stable backing to improve pressure. Water channels will then be installed, so your water pressure continues to be regulated. This pressure release technology provides a permanent solution to your seawall, preventing it from becoming damaged in the future.
Water Damage Restoration Services in Traverse City, MI
Water damage restoration companies offers crucial services to property owners in Traverse City to restore their properties after water damage.
At Bluebird CFW, our customers love our expert advice and ability to offer the highest quality repairs at an affordable cost. Opting to ignore issues or using ill-trained foundation or seawall repair technicians might do more harm than good. You might find yourself calling for help time and time again, since these companies might use inferior sealants and repair methods. Instead, call us for water damage restoration services in Traverse City, to get the expert care you deserve.
Seawall Inspection
In addition to conducting repairs and maintenance services, we will also help to conduct inspections on your seawall and look for signs of trouble. We will conduct inspections once every 5 years, or if you feel your seawall might be damaged. If there is an adverse weather event or you know your seawall is in disarray, call us so we can come take a look and inform you of possible damage. We will look for:
Cracks
Pools of water
Soil Erosion
Voids
Leaning or bowing walls
Seawall Stabilization
Stabilizing your seawall and fortifying it for continued protection is our top priority. That's why our SW-RP1 material is so critical to help improve the foundation behind your seawall and stabilize it. Our helical piers made of durable steel can also improve seawall stabilization on your property or boat decks.
Schedule Seawall Repair Services Today In Traverse City, MI
Don't hesitate to get seawall repair services done. By conducting seawall repair services as soon as possible, you minimize the risk of total damage and needing to completely replace your seawall. We provide all kinds of seawall repair services in Traverse City, MI.
Call us today at Bluebird CFW so we can help protect your home against water damage in Traverse City, MI! We also offer repair services for foundation repair, basement waterproofing, and crawl space waterproofing throughout Traverse!