Seawall Repair Services in Stevensville, MI
Like other areas of Michigan, Stevensville, MI is surrounded by different bodies of water that make it a relaxing town, a town where you can get away from the stress, and where you can purchase waterfront property that is valuable and incredibly attractive. On the other hand, this also means that you'll need to focus on seawall repair services if you own a waterfront home or business. We at Bluebird CFW want to help you improve your property's value and protect it against the dangers of water by providing high-quality seawall repair services in Stevensville, MI!
Do I Need Seawall Repair Services in Stevensville, MI Property?
Nothing is more important than protecting a waterfront property against the effects of water damage. To do so, engineers have developed seawalls, which line the property and protect it against damage from erosion, inclement weather, flooding, and more. Because seawall is critical in helping maintain your property free of danger, it's also important to protect your property using seawall repair services.
Instead of leaving repairs to the last minute, call us at Bluebird CFW for help! Our combined years of experience will improve your seawall and continue to keep your property safe from water damage.
Signs you Need Seawall Repair Services for Stevensville, MI Properties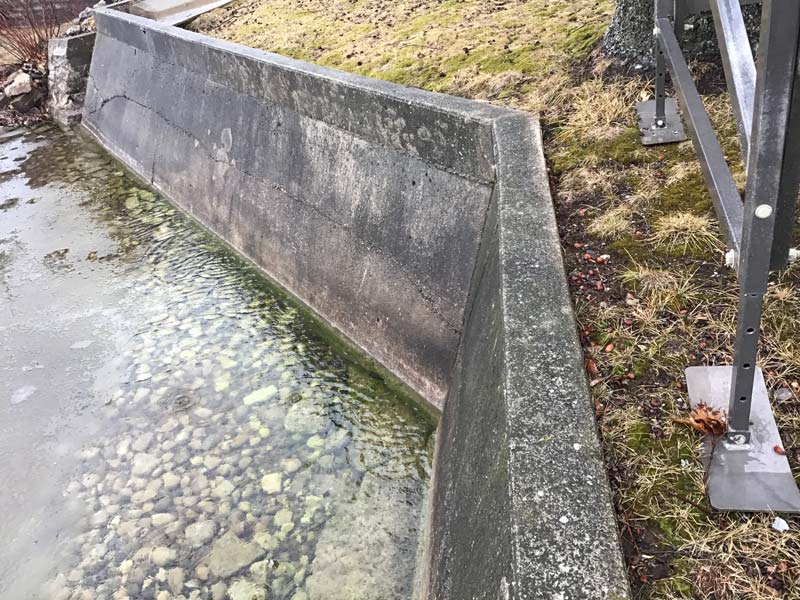 Stevensville, MI properties can benefit greatly from our many seawall repair services. However, to get the most out of these repairs, it's important to look for signs of damage to your seawall. Being informed and calling for help right away will improve the chances of repairing your seawall instead of needing to replace it completely. This is an invasive procedure and will be incredibly expensive, so it's best to look out for seawall damage signs such as:
Cracks on the seawall, which can form horizontally or can damage the concrete caps sitting above the seawall
Water pooling at the edge of your property near your seawall, a sign that water is now getting through to your foundation
Soil erosion and voids, which appear as sinkholes and almost like small burrows for animals
Bowing walls or leaning walls to one side
Other strange cracks or missing parts of your seawall
Initiating Repairs for your Seawall in Stevensville, MI
Bluebird CFW prides ourselves on offering many different techniques to help repair your seawall. Some of the most common techniques we will use to repair your seawall include:
Sealing your Seawall using high-quality sealants: We'll make sure to use only high-quality and stable sealants such as polyurethane and resin. These types of sealants provide a strong bond, and are much different than cement and concrete in providing permanent seals and protection for your seawall.
Pressure release technology: If your seawall has been damaged due to the pressures of the surrounding water, we will help regulate hydrostatic pressure through our pressure release technology. This will improve your seawall's stability, as well as provide a permanent solution to prevent pressure from damaging your seawall in the future. To do so, we use SW-RP1 sealant to fill any voids behind your seawall, creating a stable backing. New water channels will drain excess water, and improve the flow of water coming in and out of your seawall.
Why Seek Professional Help for your Stevensville, MI Home?
It's no secret that repairing your seawall using professional help might be costly. However, we at Bluebird CFW will do everything we can to offer you high-quality repairs at an affordable cost. Doing so will help improve your overall property's value, and makes all the difference in preventing repeated repairs.
Seawall Inspection Services in Stevensville, MI
Our experts will also conduct inspection services to make sure your seawall is free from signs of damage, helping to put your mind at ease and also make decisions for repairs sooner rather than later. Some of the things we'll look for when inspecting your seawall include:
Seawall cracks
Voids near the seawall
Sinkholes
Leaning and bowing walls
Caps that are damaged
Rusting or corrosion of any parts
Seawall Stabilization Services
Our SW-RP1 fillers, helical piers that use high-quality and durable steel, and our expert advice for repairs will all provide you with a seawall that is stable and capable of withstanding future inclement weather. These stabilization services are standard with our repairs and will be recommended by our experts if needed.
Schedule Seawall Repair Services Today In Stevensville, MI
Don't wait to start repairs on your seawall. Call us today instead to get started on repairing your seawall, doing an inspection, or for any other concerns! Call today for your seawall repair in Stevensville, MI. Additionally, we also offer repair services for foundation repair, basement waterproofing, and crawl space waterproofing throughout Stevensville!