Seawall Repair Services in St. Joseph, MI
Sitting on the shores of Lake Michigan, the beautiful town of St. Joseph is home to many homes and commercial businesses that sit at the very edge of Lake Michigan. However, as beautiful a sight as it may be, it's also important that these waterfront properties be protected against the elements of Lake Michigan, and continue to be protected from soil erosion and other issues caused by the waters. At Bluebird CFW, we can help improve your property's value and protect it by initiating seawall repair services!
Do I Need Seawall Repair Services in St. Joseph, MI?
Your seawall is one of the most critical parts of your home. For people that own waterfront property, Bluebird CFW offers a wide range of seawall repair services to help you keep your mind at ease knowing that your seawall is continuing to protect your property. Leaving repairs to the last minute or ignoring them can lead to more damage, and eventually, replacing your seawall in its entirety.
Don't let this be a possibility, and instead, reach out to us for help in improving your seawall's structure. Doing so can save you thousands in the long run, while also helping to increase your property's value!
Seawall Repair Services for St. Joseph, MI Properties
At Bluebird CFW, we believe being educated on the signs of damage to your seawall is key to getting repairs started as quickly as possible. That's why we encourage all of our customers to be educated on the signs of damage and to keep an eye out so they can get repairs started ASAP. Some of the signs of damage that we encourage you to seek help for include:
Cracks forming horizontally on the wall panel, which can be easily spotted on boats.
Pools of water that begin to accumulate around the edge of your seawall and around the edge of your property
Eroding of soil, which will appear as empty spots or holes on the edge of your seawall
Voids, which are air pockets in the foundation behind your seawall that also lead to sinkholes
Bowing walls or leaning walls to one side
Damaged concrete caps
Initiating Repairs for your Seawall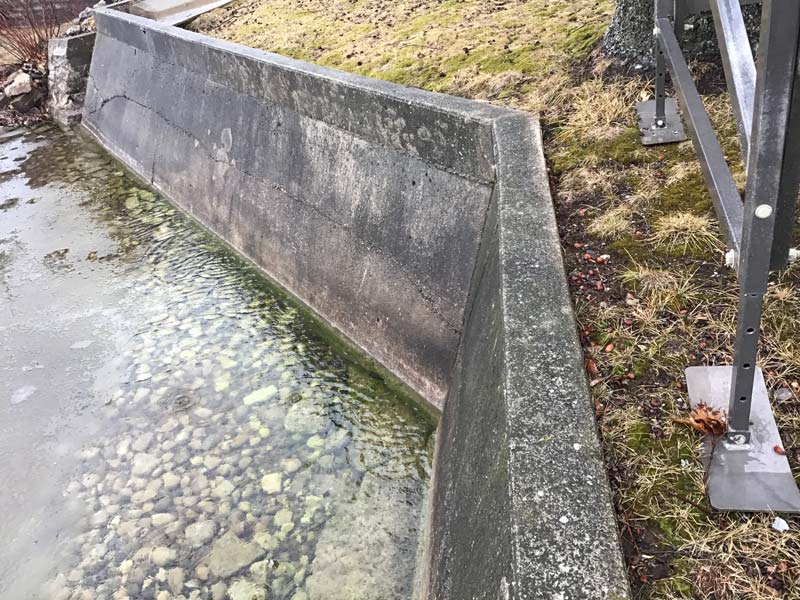 Fortunately, we can help repair your seawall with expert care if you notice any of these above signs of damage. Some of the best, high-quality care we can give to you to repair your seawall include:
1. Sealing your Seawall using high-quality sealants: Polyurethane sealants or resin are some of the most effective sealants to repair a strong engineering structure such as a seawall. Unlike other repair companies, we won't use gravel or concrete, since these materials are prone to weathering away and can shift over time.
2. Pressure release technology: Hydrostatic pressure needs to be properly regulated in your seawall to prevent cracks, voids, and permanent damage. We will stabilize your seawall's back wall by using our SW-RP1 sealant to fill any voids, creating a rock-solid foundation to improve your seawall's stability. We will then use water channels to help regulate hydrostatic pressure and provide a permanent solution to your seawall.
Professional Help for your St. Joseph, MI Home is Key
As we mentioned before, many other seawall repair companies might skimp on repairs and only focus on filling in sinkholes with Earth or using inferior sealants. These methods do nothing to repair the actual issue, which is a damaged seawall. That's why we'll offer you expert care and prepare your seawall for the coming inclement weather seasons.
Seawall Inspection Services
In addition to conducting repairs and maintenance, we can also help conduct seawall inspections so our experts can catch any issues before they turn deadly. Some of the things we will look for during the inspection process include:
Seawall cracks
Voids near the seawall
Sinkholes in the soil around your home
Leaning walls
Bowing walls
Concrete caps at the top of the seawall that are damaged
Seawall Stabilization
With the help of our SW-RP1 fillers and helical piers, we will stabilize your seawall from the inside out and improve its stability. Having a stable seawall makes all the difference for people that need a strong seawall to protect their property during those rugged Lake Michigan conditions.
Schedule Seawall Repair Services Today In St. Joseph, MI
Bluebird CFW is excited to be a part of your seawall repair process, and we're here to provide whatever help we can to improve your seawall and prepare it for the coming years. Call us today to schedule your seawall repair services and get started on the journey toward better home protection in St. Joseph, MI!
Outside seawall repair services, we also offer foundation repair, basement waterproofing, and crawlspace waterproofing services in St. Joseph.