Owning a waterfront home in Michigan can be a dream come true for many residents of this beautiful state. However, owning a waterfront home also means you will need to maintain your property using the very best seawalls and conduct seawall repair in Michigan. At Bluebird CFW, we can help provide seawall repair near you!
Why Are Seawalls Important In Michigan?
Seawalls aren't just an option; they're critical for people who own waterfront homes that don't want to experience massive erosion due to surrounding water. Seawall construction in Michigan can help protect your home against erosion from bodies of water such as the surrounding Great Lakes. They are also effective against erosion damage to your deck or dock for your boats.
If you notice any erosion occurring on your land, it's best to minimize the damage done by the surrounding water. Installation of seawalls in Michigan can also increase your home's value. Although waterfront properties are high in value and desirable, future homebuyers will want to know the property is protected from future issues such as erosion. Bluebird CFW helps protect your seawall through high-quality repairs.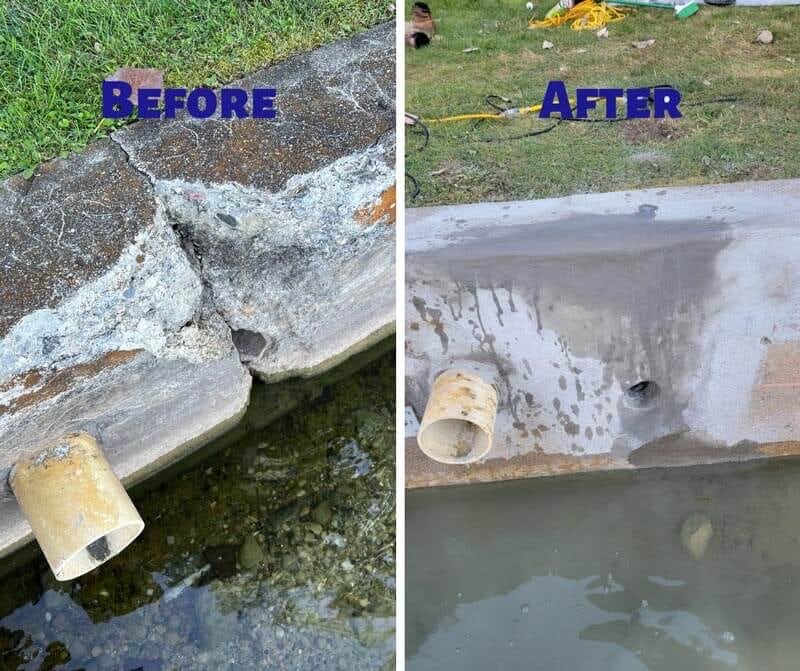 How Often Should Seawall Be Repaired?
Although seawalls are effective at keeping out massive water erosion, they are also prone to damage if not properly repaired. In Michigan, seawalls are prone to getting damaged due to the high humidity from the rains in the city. If you notice water leaking into your land through cracks in your seawall, this is a huge red flag and indicates you need to initiate seawall repair right away. Other times, sinkholes might be noticed on your property itself. If you step on an area of your grass and notice there is an indent near the seawall, this indicates there is a sinkhole that must be addressed.
Voids and soil erosion near your seawall also indicate your seawall has cracks or other damage to its structural integrity. Bluebird CFW can help address issues with voids and soil erosion for seawall repair near you!
How To Repair Concrete Seawall?
Bowing walls that are leaning are also good indicators of seawall damage. Your seawall should stand tall and sturdy against the water. If your seawall is currently damaged, we can provide a range of services to help your seawall protect your property again. This includes:
1. Using tough sealants:
The only way to properly restore a seawall and prevent future cracks and sinkholes from developing is to seal it right away with a polyurethane sealant or resin. Our experts at Bluebird CFW know just what types of sealants and materials to use to help your specific seawall stay protected against future cracks. Our goal is to waterproof your seawall and provide protection to your Michigan home for years to come.
2. Pressure release technology:
We will make sure future damage does not occur due to water build-up and pressure around your seawall. Our advanced pressure release technology can help prevent cracks and restore the strength of your seawall.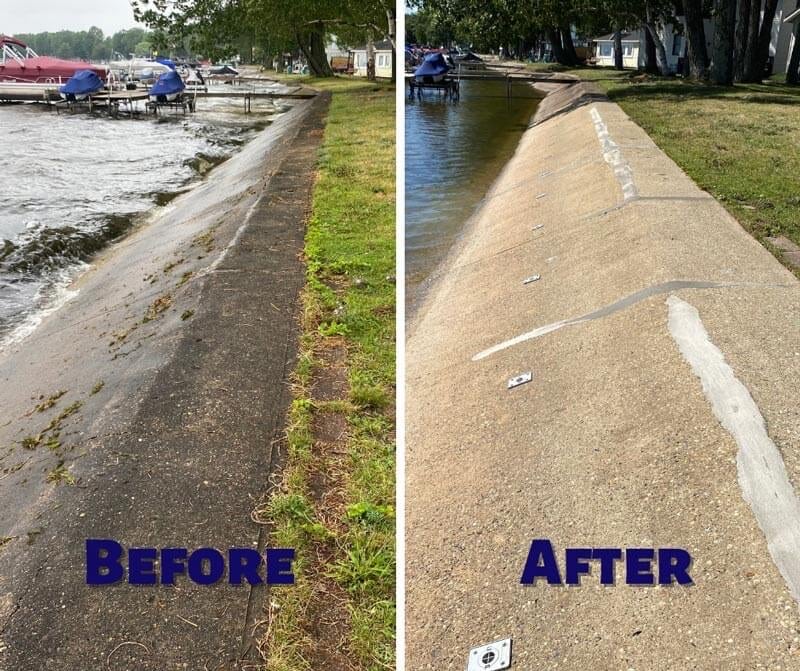 Hire Reputable Seawall Repair Services In Michigan
Unfortunately, not all contractors have the skills and knowledge necessary to handle seawall repairs. The use of cement mixtures might seem like an easy fix, but this will ultimately lead to more damage. It's important to get the help of experienced seawall contractors in Michigan from a reputable company like Bluebird CFW, to help manage your seawall repair services.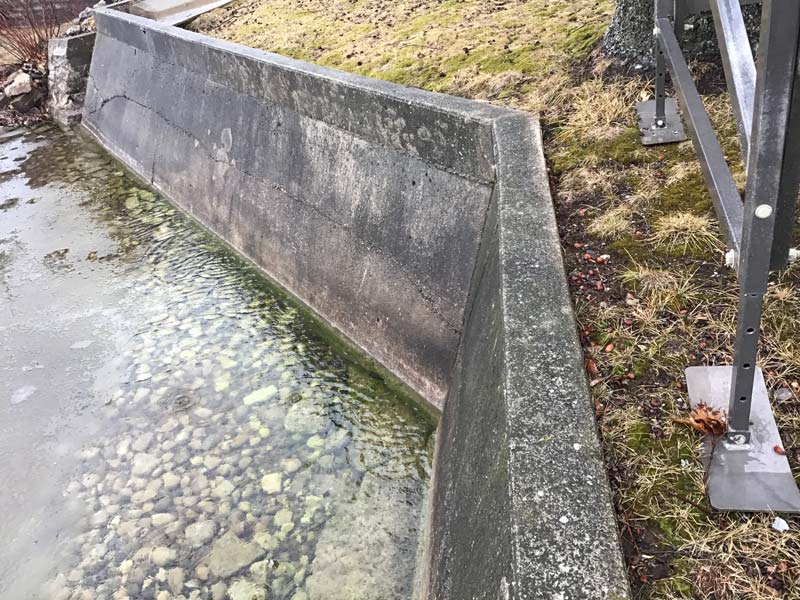 Seawall Inspection
Before we initiate repairs, our team of experts will take a look at your seawall to determine what types of repairs are going to be most effective at preventing erosion, supporting your home, and preventing future repairs.
We will make sure your seawalls do not bow in or out, have no visible cracks, and look for signs of damage around your property. Seawalls in Michigan are prone to damage caused by humidity, so it's best to have a seawall inspection done at least once every five years. However, if you notice signs of deterioration before that, such as:
Cracks in the seawall
Missing soil
Corrosion to your seawall
Upland settlement
Voids
Soil erosion
Don't hesitate to call us for an immediate inspection. Wondering what's the seawall cost per foot in  Michigan? We provide the best deals when it comes to maintaining your seawall. A seawall inspection in Michigan is the valuable source of help for your home.
What Do I Do If I Have a Seawall Erosion?
We also know how to use helical piers to support your foundation, repair any damage done by the mixture of water and soil, and use them for a variety of different applications around your property. Our helical piers can be used to hold a seawall in place around your home or around your deck or docking area.
By using helical piers and other forms of seawall stabilization, we can restore the integrity of your seawall, prevent future erosion from occurring, and protect your home in case there is a sudden surge of water or harsh natural elements threatening your home.
Contact Us For The Best Seawall Repair In Michigan!
At Bluebird CFW, our goal is to help Michigan homeowners like yourself repair their seawall, therefore protecting the barrier against the water and protecting your property and family. If you need seawall repair in Michigan, we provide free consultation. Contact us today to schedule a consultation!