When water makes its way into your home, it can be disastrous.
Most often, water moves like a silent attacker, slowly making its way into the parts of your home that you may not look at every day.
Crawlspaces are one of the most common locations that water gets into. While many Saginaw homeowners waterproof and monitor their basements, crawlspaces may be forgotten.
Saginaw crawlspace waterproofing is a crucial preventative measure that can save your home from severe water damage.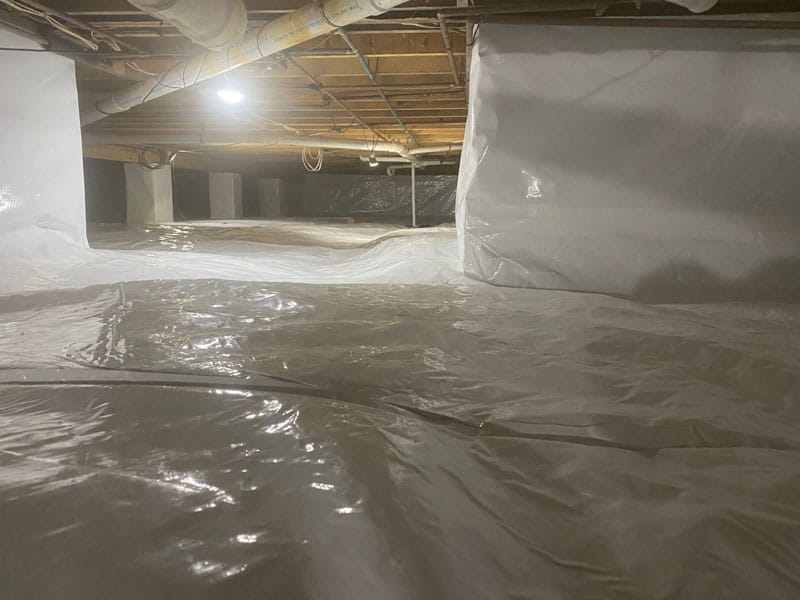 The Importance of Saginaw Crawlspace Waterproofing
Michigan homes without a full basement are likely to have a crawlspace. A crawlspace is a small, unfinished space between the foundation and the first floor of your building. They are meant to provide airflow through the home while also providing a place to access pipes, plumbing, and electrical.
While you may not venture down into your tight crawlspace too often, it is still a crucial place to monitor for flooding. As you can imagine, a flooded crawlspace is a huge hazard. Once water gets into the crawlspace, it will be extremely expensive and time-consuming to handle.
Here are some of the most common problems that occur when water gets into the crawlspace:
Mold – Your crawlspace is the perfect breeding ground for mold. It offers a dark, cool space for mold to grow when water gets in. If water gets into your crawlspace and mold begins to grow, it will spread to your entire home via the airflow. Mold harms the air quality and is especially dangerous for those with asthma and allergies. It's very hard to get rid of once it's there, so prevention is the best option.
Pests – Mosquitos, rats, and other pests are attracted to water and follow it. Water in your crawlspace can also bring unwanted pests that may cause further damage.
Wood Rot – Organisms and fungus can invade your crawlspace and damage the wood. The easiest way for these wood rotters to get in is with water. They will damage your wood, rotting it and causing it to get much weaker. Ultimately, this will compromise your foundation and lead to interior problems.
Defining Insulation and Encapsulation
Water in your crawlspace can be worrisome, but you don't have to fret! Bluebird provides high-quality, affordable crawlspace waterproofing services to help you prevent all of these possible consequences. Two common methods we employ are insulation and encapsulation, which we outline below:
Insulation – Waterproofing your crawlspace is not just about keeping the unwanted guests out. It can also help you keep certain things in––for example, heat during those cold December nights. By preserving your heat, you can keep your heating bill low. Not to mention, the cold can be pretty hard on pipes, causing them to freeze completely. The insulation process is pretty straightforward. We take special materials and line the length of the crawlspace, which in turn keeps the heat in and the cold out.
Encapsulation – Put an end to endless leaking in your crawlspace with encapsulation. When we encapsulate your crawlspace, moisture will no longer have any place to accumulate and promote mold growth and other unpleasant surprises. That's because we seal the crawlspace completely so that not even a little Saginaw spring drizzle can get in.
Bluebird Saginaw Crawlspace Waterproofing
Our waterproofing team is 100% in-house and dedicated to helping you protect your home. With over 60 years of combined experience, our knowledgeable team provides reliable work that you can trust.
Whatever your needs, we're happy to examine your home and determine your waterproofing needs. We'll provide you with a custom quote before we handle any of your waterproofing.
No matter how big or small the job is, Bluebird will get the job done right for a fair price. We guarantee great service and we will always take the time to answer any questions you may have.
If you have a crawlspace, Saginaw crawlspace waterproofing is the best way to protect it from the serious problems mentioned above. By waterproofing your space, you can prevent many more costly and time-consuming problems down the road. Contact Bluebird today to learn more about our waterproofing services and to get your free quote. Outside of crawlspace waterproofing, we also offer foundation repair and basement waterproofing and seawall repair services throughout Saginaw.