Seawall Repair Services in Pinckney, MI
Small ponds and creeks dot the town of Pinckney, MI, making it one of the more serene areas of Michigan and one of the most calming. However, just because these are smaller bodies of water in Pinckney, MI does not mean that they won't damage your waterfront property. In fact, if you live in Pinckney, MI and have property that lies at the edges of various ponds and creeks in the city, it's important to continue to protect your home using seawall repair services. Bluebird CFW offers the best seawall repair services in Pinckney, MI, which can put your mind at ease and continue to protect your seawall from the effects of water damage! Want to learn more about how we can help? Read on below for more information!
What is a Seawall Used For?
Seawalls are barriers that can protect your home from flooding and damage. They are installed on the surrounding edges of your property which meet with the water.
They can be used for commercial properties, residential properties, and even boat docks. They are comprised of various parts, such as the concrete wall panels, mesh fabric, anchors, concrete caps, and more.
Signs you Need Seawall Repair in Pinckney, MI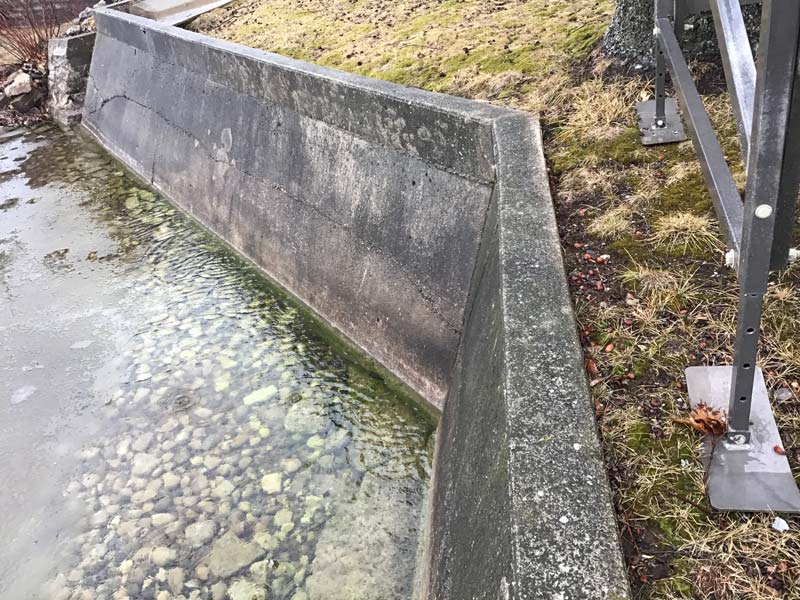 Although seawalls are made to be durable and last for quite a long time, this doesn't mean they aren't prone to damage from the surrounding water. There are various signs of damage that will alert you to the possibility of needing seawall repair services.
Some of the most common signs of damage include voids and sinkholes around your property. These sinkholes and voids will appear as small holes around the edge of your seawall in the soil itself. They are caused by pockets of air, which indicate your seawall is now damaged due to water pressure.
Other signs of damage might include soil erosion on the edge of your property. In addition, if you notice other signs of visible damage on the seawall itself, such as horizontal cracks or concrete caps damaged at the top of your seawall, these are also signs that you need the help of Bluebird CFW.
Once you call us, we will help start repair services through methods such as:
Sealing cracks using high-quality, industrial sealants: At Bluebird CFW, we use only high-quality sealants to improve your seawall's stability. Unlike other commercial seawall repair companies, the sealants we use include Polyurethane and resin, which will seal any cracks in your seawall without having it shift or risk it falling apart again.
Pressure release technology: At Bluebird CFW, we have found the perfect technique to protect your seawall against the effects of mounting water pressure behind the seawall. To do so, we will inject the soil behind your seawall with our unique SW-RP1 material, making it as hard as crystal rock and providing excellent backing. Then, we will install water channels to alleviate pressure and permanently protect your seawall.
Why Get Professional Help for your Pinckney, MI Home?
It's important to get professional help to improve your seawall. Leaving repairs to other inferior companies might mean your seawall isn't fixed at all, and instead, only gravel, cement, or Earth is used to give the appearance that your seawall is fixed. Get to the root of the damage with the help of Bluebird CFW. Our experts won't stop until we find the best solution to fix your seawall and protect your home.
Seawall Inspection
Our experts will also help to conduct inspections at least once every 5 years. However, we recommend getting help and inspections if you notice there are other issues with your seawall, your seawall has never been repaired or inspected, or if there has been an adverse weather event recently in your area.
During our inspection, we will take a closer look at your seawall and recommend repairs if they are needed. We will keep an eye out for:
Cracks
Pools of water
Soil Erosion
Voids
Leaning or bowing walls
Seawall Stabilization
It's important to have a stabilized seawall that will continue to protect your Pinckney, MI day in and day out. That's why we're proud to use our SW-RP1 technology combined with helical piers to create a super fortified seawall for your home's protection. These combined will ensure your seawall continues to act as a barrier.
Schedule Seawall Repair Services Today In Pinckney, MI
Bluebird CFW will be here to help residents of Pinckney, MI get the care they need and put their worries at ease when it comes to seawall repair and seawall inspection services. Call us today to schedule your consultation and repair your seawall in Pinckney, MI! Additionally, we also offer repair services such as foundation repair, basement waterproofing and crawlspace waterproofing throughout Pinckney.