While basements are great spaces to store old relics, do your laundry, or just watch television or workout, they can also be at greater risk for structure-compromising water damage. Acting quickly as soon as you see traces of water damage and opting for basement waterproofing in Lapeer, MI can save your home from costly damage.
Water usually enters through any exposed cracks in your home's structure. Drafts may also get in, and cooler air tends to carry extra moisture, which simply contributes to a damp environment. If you don't pay close attention, you can easily end up with a basement rife with water damage, mildew, and mold. Don't wait for the water to enter your basement before taking action. Basement waterproofing will protect your basement from water and moisture. For quality waterproofing you can count on, Bluebird Foundation Repair & Waterproofing can help.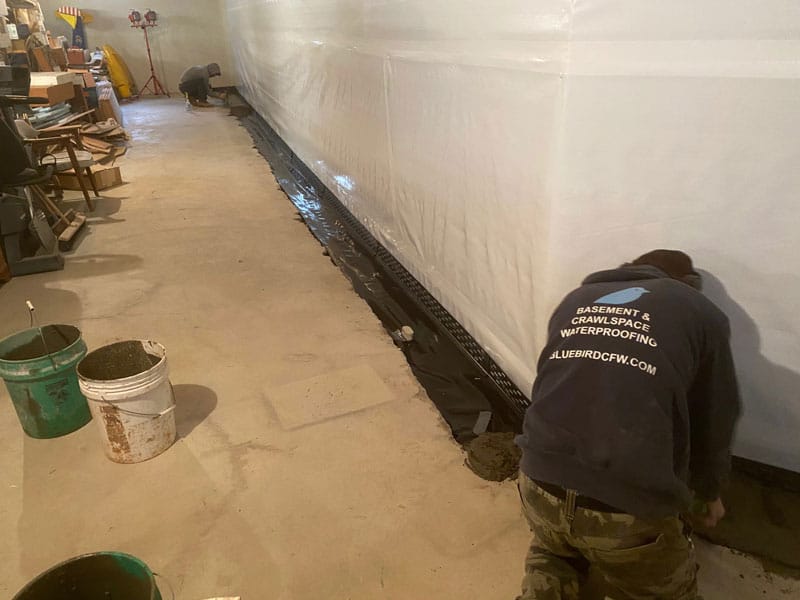 Basement Waterproofing Benefits
Waterproofing your basements helps to keep water out, which in turn reduces the chances of mold and mildew. Here are the many benefits of basement waterproofing:
Preserve Your Home's Value – Waterproofed basements are a major boon when the time comes to sell. Waterproofing prevents water damage and mold infestation that might detract from the otherwise strong qualities of your home. Homebuyers will love a waterproofed basement because they can enjoy a dry, cozy basement without having to put in any extra money themselves. Basement waterproofing repair will also allow water damage restorations if the damage has already been done.
Insurance Costs – Any time you make a claim because of water damage, your rates may go up. On top of that, you'll have to pay a deductible before the insurance kicks in. By waterproofing your basement, you can avoid insurance claims and keep the cost of insurance down.
Renovation Preparation – Before starting any basement renovations, always begin with basement waterproofing. Waterproofing keeps moisture and water out of your basement, which you won't have to worry about affecting your new trendy space. You can rest assured that the brand new remodel will not be destroyed due to excess moisture.
Improved Air Quality – Water brings damaging pests with it, including mold, mildew, bacteria, and animals. Mold and mildew in particular will put a damper on the air quality in your home. Those with allergies or asthma are the most impacted by mold and mildew, but it can have long-term effects on just about anyone. Basement waterproofing in Lapeer keeps water out from your home, which also prevents mold and mildew. In the end, this preserves the quality of your air.
Bluebird Lapeer Basement Waterproofing
Water damage is an issue that affects many basements. Basement waterproofing services in Lapeer is the most effective strategy for keeping moisture out of your basement. To ensure proper waterproofing, you must have it completed by a knowledgeable professional.
You're in luck because that is exactly what Bluebird does best.
Our knowledgeable team has over 20 years of experience helping residents with basement waterproofing in Lapeer, MI. You can always expect quality and affordable waterproofing from our team. We begin with an assessment of your basement, so we can determine the most efficient waterproofing solution.
Learn more about our basement waterproof solutions or schedule your appointment by contacting us today! Outside of basement waterproofing, we also offer foundation repair and crawlspace waterproofing throughout Lapeer.