The often-overlooked crawlspace is so much more than your home's best-kept secret. In fact, many pests can easily find their way through your crawlspace––so much so that improperly sealed or neglected crawlspaces lead to rot, mold growth, and rodent infestations.
Here at Bluebird Foundation Repair & Waterproofing, we want to help you make your Lansing home more comfortable, safe, and dry than ever before. Here is everything that you should know:
Cracks and Leaks
While some people may think cracks are simply cosmetic issues or something that can easily be overlooked just with a quick paint job, it is important to take these cracks seriously. Cracks in the walls of your crawlspace are worrisome because they may indicate structural damage. Cracks may result from any of the following factors:
Settling Foundation – When your house settles, the walls of your crawlspace can become uneven and crack. Cracked walls could affect your entire foundation over time. Not to mention, cracks also allow water, moisture and rodents to enter, which can contribute to even more costly problems.
Tree Roots – Tree roots can grow and put pressure on your crawlspace walls, which in turn causes cracks and leaks. If you have a tree growing close to your property, you will want to monitor it to ensure that it does not encroach on your territory. Beyond that, however, trees are nourished by the same soil that makes up your foundation. When they sap the soil of its moisture, that soil may pull away from your foundation, leaving it more vulnerable.
Water Pressure – Gravity on water from leaks or improper drainage in or around your crawlspace can put enough pressure on the walls and foundation to cause serious damage.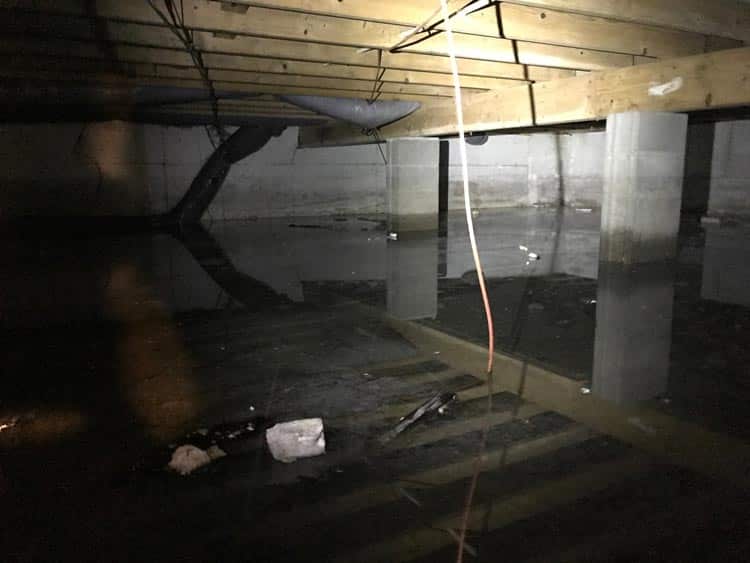 Crawlspace Waterproofing
This process ensures that water in the crawlspace is safely removed by creating a system that directs the water out via a sump pump.
Crawlspace Encapsulation
Even if your crawlspace is waterproofed, you may want to take some extra precautions by investing in a thorough process called encapsulation. This process ensures that the crawlspace is sealed off so that moisture and water can't enter. Bluebird will not encapsulate a crawlspace that hasn't been waterproofed first.
Crawlspace Insulation
An insulated crawlspace is much less likely to suffer from excessive condensation and moisture. Moreover, insulation can help ensure this space remains at a consistently sustainable temperature. We always opt for high-quality materials when insulating crawlspaces.
How Do I Know What I Need?
Signs that indicate a waterproofing system is necessary for your crawlspace are standing water on the crawlspace floor as well as damp soil on the floor. Both of these indicators can cause toxic mold to form, the home's foundation to be compromised and rodents or pests to be allowed in the space.
Solutions
There are several solutions when waterproofing or encapsulating your crawlspace. Installing a sump pump to make sure water is being safely removed, perimeter drains to ensure water doesn't get into the crawlspace, and dehumidifiers to remove moisture that has already entered the crawlspace are all solutions that Bluebird can use to help make your crawlspace dry and safe.
Here for your home and business crawlspace and foundation needs, Bluebird can get you an accurate estimate in a timely matter, making sure your home, family, and business are safe. To get started, call us at (888) 411-2264 or shoot us an email at [email protected]. Outside of crawlspace waterproofing, we also offer foundation repair, basement waterproofing and egress window installation and repair throughout Lansing.