Seawall Repair Services in Kalamazoo, MI
Kalamazoo, MI is lined with gorgeous lakes, the Kalamazoo River running through it, and a wide range of museums, parks, cafes, and restaurants to enjoy. It is an attractive city with a growing population that now sits well over 76,000 residents. For residents of Kalamazoo, protecting their homes and property from water damage is of the utmost importance. Bluebird CFW can help protect waterfront homes and properties against water damage, flooding, and erosion by providing the best seawall repair services in Kalamazoo, MI!
Why are Seawall Repairs Important in Kalamazoo, Michigan?
Your seawall is designed to keep water away and provide structural integrity to your property. Seawalls can help protect your home against erosion, as well as help prevent further water damage from surrounding lakes and rivers. Unfortunately, seawalls are also prone to damage and wear and tear, especially if they were installed wrong, have other structural issues, or are prone to wear and tear damage. Due to the many issues with seawalls, it's critical to start repairs as soon as possible to mitigate permanent damage and the need for total seawall replacement.
Seawall Repair for your Kalamazoo, MI Home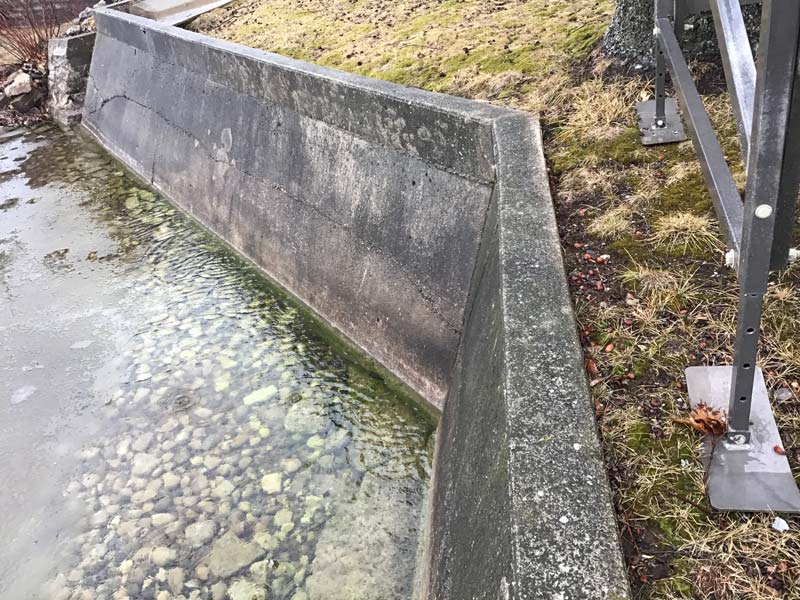 There are several signs you should look for that indicate you need to start repairs right away on your seawall. For instance, if you notice visible cracks in the wall panels, this is one of the biggest indicators that something is wrong with the integrity of your wall. This can be due to damage from water pressure build-up or wear and tear on your seawall.
In addition, you might also face issues with your seawall if you notice any voids and soil erosion near your home. These can appear as small holes located behind your seawall. These holes might seem as if they were dug by smaller animals, and may appear as if you can easily fix them by filling in the dirt. On the contrary, this is a sign that your seawall needs to be repaired.
Not only will Bluebird CFW seal any cracks using high-quality sealants, but we'll also inject SW-RP1 into the Earth behind your seawall. This helps fill in any voids permanently, providing a structurally sound backing to your wall. We will then install new water channels to your seawall, permanently preventing future water pressure build-up and cracks through our unique pressure release technology.
Why Get Professional Help in Kalamazoo, MI?
It isn't enough to simply fill in your seawall cracks with cement or seashells. These cracks need to be filled in using high-quality sealant and also be filled in by experts that know how to reinforce your seawall to prevent future damage. Spending money on cheap fixes might save you money now, but it won't do much to prevent future issues from arising with your seawall. It also won't do much to prevent your seawall from failing completely. It's best to reach out to Bluebird CFW for professional repairs done the right way.
Seawall Inspection Services
In addition to repairing your seawall, we will also inspect your seawall in order to determine if you need repairs done to your wall, or if you need to completely replace your seawall. We will also conduct maintenance to extend the life of your seawall for years to come. Our experts will inspect your seawall for signs of damage including:
A cracking concrete cap, which holds the entire seawall together
Horizontal cracks in your wall panels
Voids around your property
Sinkholes that aren't created from smaller animals
Flooding around your property
Corrosion to other parts of your seawall
Leaning or bowing walls, which indicate structural damage
These all indicate that your seawall is in need of repairs. We will inform you of the best decisions to repair your seawall, and can conduct inspections every 5 years or sooner if you need peace of mind.
Seawall Stabilization in Kalamazoo, MI
In addition to our SW-RP1 injections, we can also help stabilize the most vulnerable parts of your seawalls using steel tie-backs. These tie-backs can help improve the structure of your seawall, straightening out bowing walls and improving the integrity of your seawall. Filling in voids and cracks with high-quality materials and our unique anchoring system provide a whole-picture approach to seawall stabilization.
Get the Best Seawall Repair Services in Kalamazoo, MI with Bluebird CFW
Bluebird CFW has over 20 years of experience repairing seawalls, and foundational issues, and helping to improve the structure of your seawall through high-quality materials and state-of-the-art technology! We'll be with you every step of the way to provide you with the best customer service, seawall repairs, and inspections, and so much more. Call us today to see how we can help you prepare your seawall for the coming years and decrease the chances of damage to your property!
We also offer additional services such as foundation repair, basement waterproofing, crawl space waterproofing, and egress window installation in Kalamazoo, MI!