Expert Egress Window Installation Services in Kalamazoo, MI
Bluebird CFW Foundation Repair and Waterproofing has extensive experience, superior quality products, and a deep understanding of local building codes you can trust when it comes to meeting your egress window installation needs throughout the Kalamazoo, Michigan area.
In other words, if you want to finish your basement by adding an extra bedroom or even a home office, it's time to install an egress window. This will not only add to your home's "living" space but also your home's total value, especially if you are considering starting something like a home-based business. Or maybe you only want an additional bedroom that will boost your home's square footage. Whatever your reason, Bluebird CFW's over 20 years of experience will ensure the accomplishment of your goals.
Bluebird CFW will:
Order all parts and products
Pull all required permits and schedule inspections
Excavate
Install windows and wells
Waterproof
Seal and insulate
Backfill land
What is an Egress Window?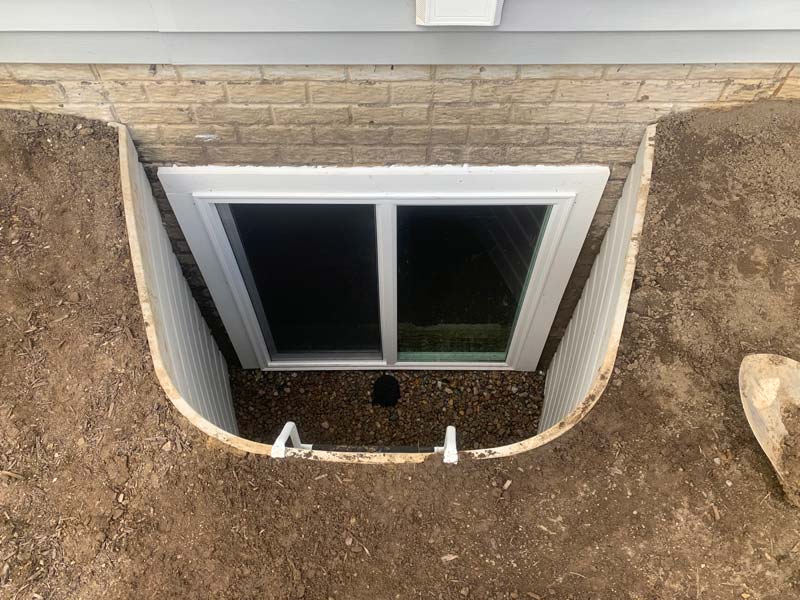 An egress window is a window that is a specific size which is designed as an alternative way of exiting an interior space. In this case, it's finished space in a basement. If the basement is unfinished, it's not considered living space, so an egress window isn't necessary.
More simply, it's a window that's big enough for anyone to climb through to get out in an emergency. It's also big enough for a first responder to climb through.
In a home, the majority of windows in bedrooms are already big enough to climb through. However, a basement's a different matter. Not just because the majority of the basement is underground, but also because you need enough room to climb out and away from the basement. That's why a window well is also part of the requirement.
This also means taking extra steps to waterproof such a large window against water intrusion and flooding with proper waterproofing material, drainage, and designs.
Requirements for Egress Window Installation in Kalamazoo, MI
The size requirements for an egress window and window well affect everything when it comes to installation. Each egress window needs to be at least 22 inches wide and 24 inches tall. The well's depth and external space is always greater than the window's height and width to allow for the movement of people and equipment.
For new egress window installations in Kalamazoo, MI, structure modifications will be required, as well as excavation around the window's location for the well. Egress window wells are usually either a rectangular or semi-circle shape and provide enough room to both exit and gain entry through the window.
Because of the structural impact of an egress window installation on your home, trusting our professionals that understand the work involved, as well as all the permit and building code requirements, is your best option throughout the Kalamazoo area. We also provide egress window services in Kalamazoo for replacement windows. They will do the job with first-time quality, including the structural modifications and excavation that go with it.
Concrete Cutting
Egress window installations and concrete cutting go hand-in-hand. Our team will handle all the concrete and masonry cutting with our special tools and equipment. In addition, they'll ensure the watertight integrity of your foundation is protected and any concerns or issues while installing will be immediately brought to your attention with recommendations on the proper way forward.
Concrete cutting is a common obstacle when it comes to egress window installation. You can rely on our experienced team not to compromise your foundation's integrity while still getting the work done in a timely and professional manner.
Window Well Grates and Covers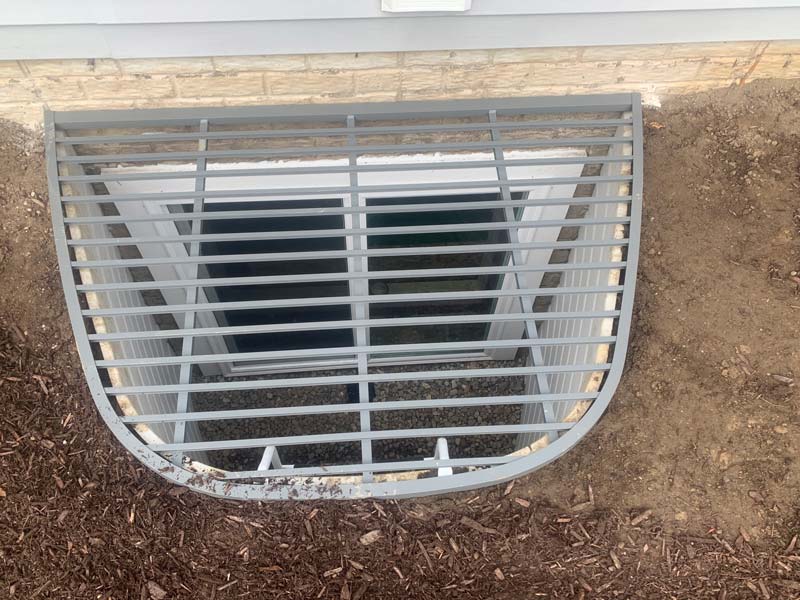 If you're wondering if you'll also be required to have a window well grate or a well cover with an egress window, the answer is yes. By code, they are required to pass any building inspection upon installation of an egress window. This is primarily for safety reasons. No one wants someone falling into an open well when it can be avoided.
That doesn't mean they have to be unappealing to the eye. In addition, they add extra layers of protection to your home by keeping the occasional animal out of your well. They also keep yard debris, leaves, and even snow from accumulating in your well. Lastly, they help with drainage by keeping water away from your window, or water collecting in your well during times of heavy rain.
Hire the Best Egress Window Installation Company in Kalamazoo, MI
You can rely on Bluebird CFW to conduct a full inspection of the ground, recommend the best egress windows that you can install for your home and ensure the work is completed to your satisfaction and our standards.
Please contact us if you'd like to speak more with our experts or for egress window installation in Kalamazoo, MI! Additional we also offer foundation repair, basement waterproofing, crawlspace waterproofing and seawall repair in Kalamazoo, MI!