Seawall Repair Services in Howell, MI
Howell, Michigan sits on the edges of Thompson Lake and is much beloved by community residents for its small-town feel, coffee houses located throughout, and the beautiful nature surrounding the city. Over 9,000 residents currently call this city home. For those residents, protecting their waterfront properties from damage from seawater or protecting their docks is critical.
For extra protection against flooding and erosion, many residents choose to install seawalls. At Bluebird CFW, we can help repair existing seawalls so your home or property continues to stay protected against the elements!
Importance of Seawall Drainage System
A seawall drainage system is a critical component of coastal infrastructure that helps protect coastal communities and assets from the impacts of coastal erosion and flooding.
The purpose of a seawall drainage system is to manage the water that accumulates on the landward side of a seawall, allowing it to drain away from the seawall and the adjacent land.
Without proper drainage, water can get on the landward side of the seawall, causing erosion and undermining the seawall's stability. This can lead to catastrophic failures that can endanger lives and cause significant property damage. Therefore, an effective seawall drainage system is essential for the safety and sustainability of coastal communities and infrastructure.
Seawall Repair for Commercial and Residential Property
At Bluebird CFW, we make it our mission to use the best quality materials and expertise to help repair your seawall and protect your property from further damage. If you live in Howell, MI, it's crucial to keep a watchful eye out for potential issues with your seawall, which can include:
A cracking concrete cap, which holds the entire seawall together and can become damaged from water pressure
Horizontal cracks in your wall panels
Voids around your property, which appear as sinkholes around the perimeter of your wall
Corroded parts of your seawall
A boardwalk that leans to one side or another
Leaning or bowing seawalls
Soil erosion around your property
At Bluebird CFW, we can seal any cracks in your wall using high-quality sealants such as resin and polyurethane. In addition, we aim to use state-of-the-art pressure release technology so your seawall is permanently protected from the threats of rising water and damage. We will use our highly advanced SW-RP1 and inject it into the Earth behind your seawall. This helps get rid of voids and provides a solid backing to your seawall.
Later on, we will install drainage channels to de-water your seawall and get rid of built-up water pressure. These techniques are minimally invasive, and are just a fraction of the cost of total seawall replacement! In addition, they are eco-friendly, so you don't have to worry about harming any wildlife surrounding your Howell, MI property.
Why Choose Bluebird CFW in Howell, MI?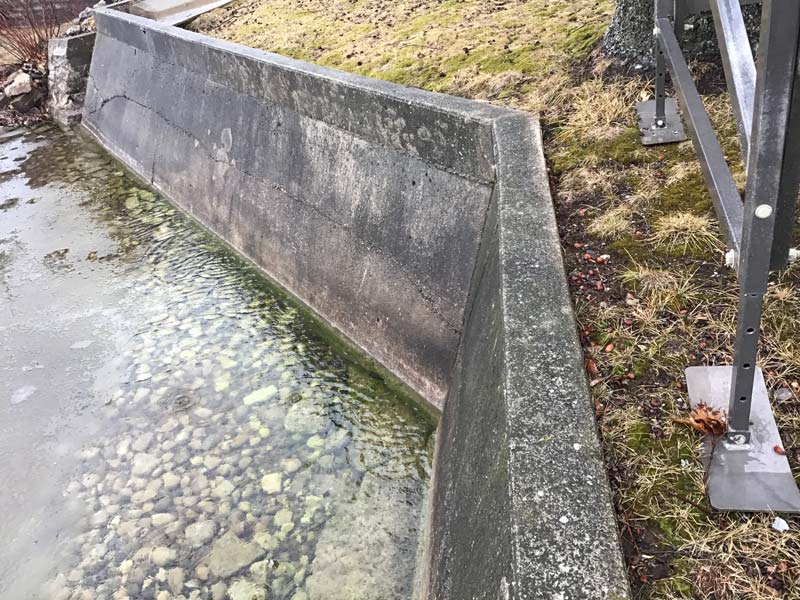 Bluebird CFW has spent over 20 years in the business of repairs. We can help initiate foundational repairs as well as seawall repairs for your home or business. Our customers love our dedication to customer service, superb communication, and affordable pricing options to give you the best seawall repair services at a great price. We're accredited by the Better Business Bureau and are members of the Home Builders Association of Michigan. Our goal is to use only the best, high-quality materials and expert care to repair your seawall, unlike our competitors that use inferior cement mixes!
Seawall Inspection in Howell
Although it's recommended to inspect your seawall once every five years, Bluebird CFW can inspect your seawall in case there are any signs of damage to your seawall. We will do a thorough perimeter check of your seawall, you can feel comfortable knowing we're doing everything we can to inform you of potential repairs before they need costly replacements.
Our technicians are experts at recognizing structural problems in your seawall. We will give your seawall a good, clean bill of health, or inform you of potential issues that need to be addressed as soon as possible.
Seawall Stabilization Services
Bluebird CFW uses a variety of methods to stabilize your seawall and make it structurally sound. We use only high-quality sealants to repair any cracks in your seawall. We also use state-of-the-art SW-RP1 injections directly into the soil behind your seawall, crystallizing it and making it one of the best solutions to stabilize the entirety of your seawall. We will also use a unique seawall anchoring system using steel tie-backs to make sure your seawall is also stabilized in its most vulnerable areas.
Contact Us For Seawall Repair in Howell, MI 
You don't have to suffer from the effects of broken and damaged seawalls. Continue to protect your waterfront property with the help of Bluebird CFW seawall repair in Howell, MI! With over 20 years of experience, new technology, and non-invasive techniques, we'll help get your seawall repaired in no time! Call today to schedule your appointment. We also offer foundation repair, basement waterproofing, crawl space waterproofing and egress window installation in Howell, MI!