To keep your home safe and sturdy, you should always check in on its foundation to make sure that it's doing okay. Foundation damage threatens your entire home. That said, foundation damage is not always obvious or easy to find. Even if you notice a problem, you will likely not have the equipment to properly repair it yourself.
The foundation experts at Bluebird are here to help with any foundation repair in Howell, MI. Our dedicated team will address the source of foundation issues to preserve the structural integrity of your home.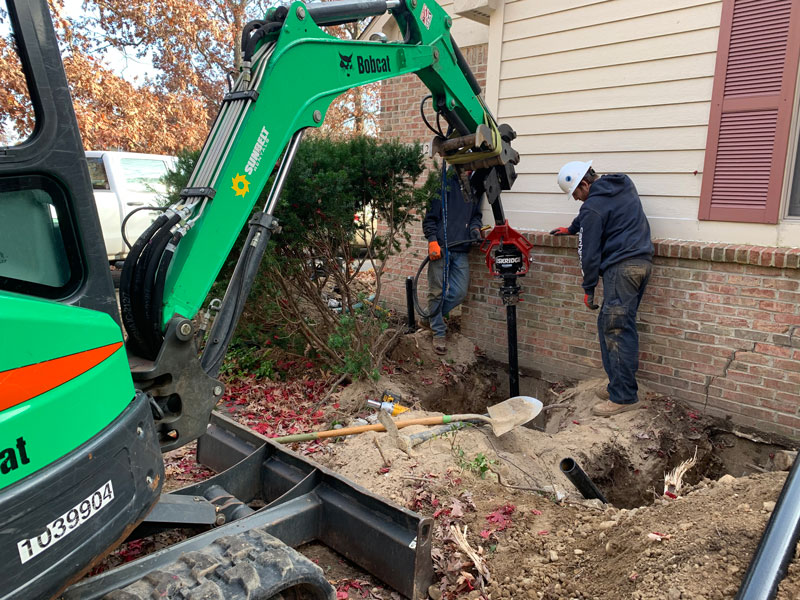 What Are The Warning Signs of Foundation Damage?
The foundation impacts every aspect of your home. If your foundation sustains damage, it can show in your floors, walls, and chimney. Here are signs to look out for:
Cracked Floors – If your foundation shifts and settles, it can create cracks in your concrete, ceramic, or hard floors.
Cracked Brickwork – Masonry on the inside or outside of your home can crack as a result of foundation damage. Keep an eye out for cracked brickwork.
Leaning Chimney – A leaning chimney is a warning sign. Your chimney should stand straight up; if your foundation is sinking, it may lean. Never ignore a leaning chimney.
Cracked Drywall – Drywall cracks will worsen over time if you do not address the root of the issue. Cracks in the drywall indicate foundation problems that are shifting your walls. Bluebird offers drywall repair in Howell, MI, which include services, such as patching holes, fixing cracks, repairing water damage, and more.
Why Repair Your Foundation?
Foundation issues are not something to ignore. They are progressive and will get much worse over time. Left unaddressed, the foundation will eventually fail and cause your home to cave in.
Drywall repair is also an essential service for homeowners, who are experiencing damage to their walls or ceilings. Drywall damage can be caused by various issues, from water damage and cracks to holes and other wear and tear.
Have only a minor foundation problem? Then it's the perfect time to repair it! The sooner you address the foundation damage, the more money you will save.
Foundation repair also helps preserve the value of your home. Foundation damage and the associated damage to your walls, floors, and other areas will deter future buyers. By correcting foundation damage before it gets out of control, you can maintain the value of your home and sell it for what it's worth when the time comes.
Bluebird Foundation Repair in Howell, MI
Believe you may have foundation damage? Just want to assess your foundation to make sure? Bluebird is here to help.
Our team of foundation experts is RamJack certified. We use only the best equipment and materials to repair all kinds of foundation problems. All of our methods and tools have been tested extensively.
Our foundation services include deep-driven steel piering, heavy-duty piles and piers, helical piering systems, and carbon fiber to support damaged walls and beams. Our knowledgeable team will select the right method and equipment for your unique foundation.
Don't wait to preserve the structural integrity of your home! Whether you just want your foundation checked or you know you need a repair, Bluebird has you covered. To learn more about our Howell foundation services and to schedule your appointment, contact us today. Outside of foundation repair, we also offer basement waterproofing, crawlspace waterproofing and egress windows throughout Howell.