Seawall Repair Services in Holland, MI
Whether you live on the shores of Lake Michigan, Pine Creek Bay, Lake Macatawa, or the Macatawa River, there's no shortage of waterfront homes and properties to give you breathtaking views of Holland, MI. This is one town where people love to call home, with a population of just over 33,000 residents! However, for residents of Holland, MI, it's important to protect their property using reinforced seawalls that are free of damage. Larger bodies of water such as Lake Michigan can also pose a threat to beachfront properties. At Bluebird CFW, we specialize in helping people gain safety and security through our excellent seawall repair services in Holland, MI!
Why are Seawall Repairs Important in Holland, Michigan?
Seawalls are designed to protect your property against erosion from the surrounding water, and from damage due to rising floods and inclement weather. Without seawall repair services, your seawall can fail, leading to costly replacement. Failing will also lead to your home being exposed to the elements, leading to flooding and erosion of your property.
Seawall Repair for your Holland, MI Home
At Bluebird CFW, we understand how critical it is to start repairs right away in order to mitigate the damage from cracked seawalls. We recommend you contact us right away as soon as you notice signs of failure in your seawall, including:
Crumbling at the top of your seawall caps
Cracks in the wall pens of your seawall, which run horizontally across the front
Voids behind your seawall, which can appear as sinkholes or small pockets dug by animals
Flooding behind your seawall
Corrosion of your seawall steel or other parts
Soil erosion near your seawall on your property
All of these indicate you need seawall repair services started immediately, or else face the risk of a failed seawall. We can help start high-quality repairs which include:
Sealing of your cracks: Bluebird CFW uses high-quality sealants for all our repairs, including polyurethane sealant or resin. We also use SW-RP1 to reinforce the Earth behind your seawall, creating a structure that is incredibly strong and structurally sound.
Pressure release technology: By installing new dewatering chambers and getting rid of excess water, we can help ensure that our SW-RP1 fillers and pressure release technology helps get rid of any built-up pressure behind the seawall. Our repair methods are environmentally friendly, and offer a permanent solution to help your seawall remain structurally sound for years to come.
Why Get Professional Help in Holland, MI?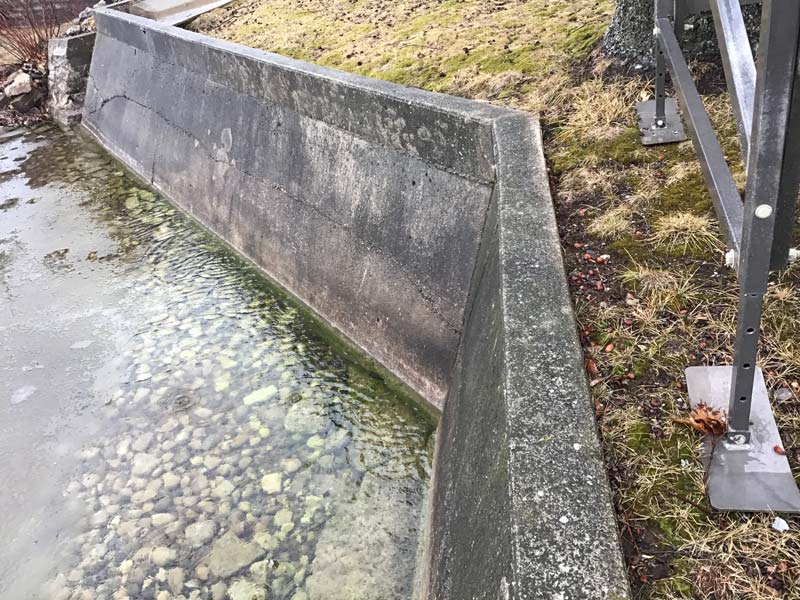 Sadly, many other companies that claim to use high-quality sealants rely on inferior materials such as mixed cement or crushed seashells for their repairs. They might also attempt to fill any voids behind your seawall with Earth or compost. These methods do nothing to fix the underlying issue causing damage to your seawall, which can be related to water pressure or a structural defect. You might find yourself spending money on more repairs than necessary when using a business that is not qualified in initiating seawall repairs.
Fortunately, Bluebird CFW has over 20 years of experience serving residents of Michigan through seawall repair services, foundational repairs, and other repairs to keep your home or property safe!
Seawall Inspection
It's recommended that homeowners or property owners inspect their seawall at least once every 5 years to ensure it is structurally sound and free of damage. However, you should call us right away to inspect your seawall for damage if you suspect it is in need of repairs, or if you moved into your property and have no knowledge of the state of your seawall.
Our experts will take a look at the entirety of your seawall, inspect it for signs of damage, inform you of possible repairs, and start those repairs as soon as possible so you don't have to struggle with the effects of a damaged seawall and damaged property.
Seawall Stabilization in Holland, MI
At Bluebird CFW, we also use helical pliers to help stabilize and support your seawall. Our experts will identify the most vulnerable areas of your seawall and use steel tie-backs to help reinforce and stabilize your seawall in these areas. We can also help stabilize your seawall by filling in cracks and voids using high-quality sealants. Our SW-RP1 injected in the soil behind your seawall is yet another way to stabilize the seawall, ensuring it is structurally sound on all sides and protecting your home from floods and water damage.
Get the Best Seawall Repair Services in Holland, MI
We'll be with you every step of the way to repair your seawall and protect your home from water erosion and flooding! Call us today to see how we can help keep your home or property safe for years to come by scheduling seawall repair services in Holland, MI at Bluebird CFW!