Foundation issues can disrupt the stability of your property, leading to structural problems that demand immediate attention. Our helical pier installation service in Michigan offers a reliable solution to address any commercial or residential foundation issues cost-effectively and efficiently. Bluebird CFW provides comprehensive helical piers installation in Michigan. We use helical piers for foundation support applications using only top-quality materials, like 100% USA-made steel shafts.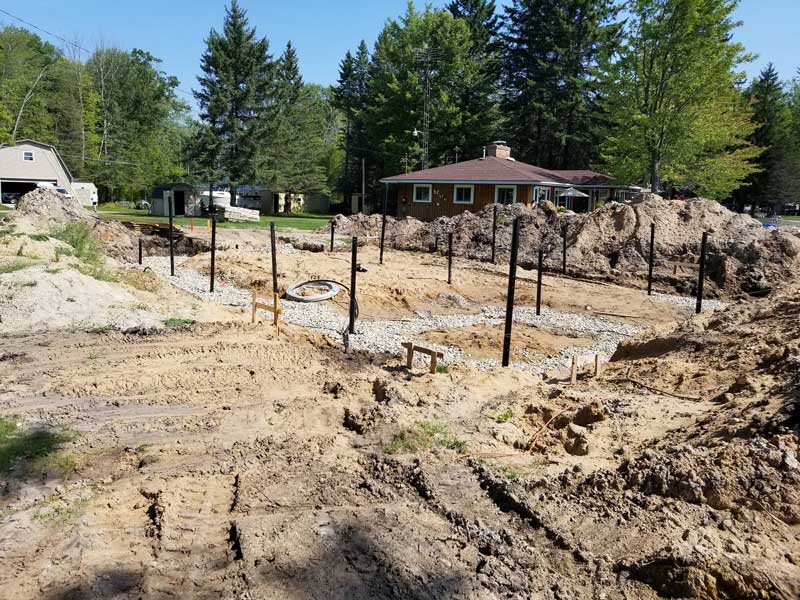 Install Helical Piers For New Construction In Michigan
Our helical piers in Michigan are incredibly powerful. This ensures we can use them for many different foundation repairs. We're able to leverage our helical piers to achieve successful foundation repairs for a wide array of situations. Bluebird helical piers are an affordable solution for projects with a light load, like porches or slabs. For other foundation repairs, helical piers may reduce the expense of repair.
Here are some projects we use helical piers for:
New Construction – We install helical anchors before new construction begins. The anchors will prevent settlement, which prevents many foundation issues from ever occurring.
Interior Slab Support – First, we install helical anchors through the slab. Then, we mechanically raise the floor and support it on durable load-bearing strata.
Porches & Decks – Porches are a lightweight application that makes helical piers work extremely well.
Wall Tie Backs – Helical tiebacks are used for repairing retaining walls and basement walls. They ensure a clean installation.
Variety – A wide range of commercial and residential foundation repair situations.
How Are Helical Piers Installed On The Ground?
If you are wondering how helical piers work and how they are installed to the ground, we provide you with a comprehensive detail of how helical piers work.
Test To Figure The Depth Of Installation: Each foundation repair job has multiple factors. One of the largest factors associated with foundation repair is how deep we have to drive the helical piers. In order to determine the correct depth, we like to start with a test helical. Our team of professionals will drive a test helical into the load-bearing strata. This allows our team to identify how far down the load-bearing stata is below your foundation. Once we reach the load-bearing strata, the helical is removed, and the hole is filled.
Twist Each Helical Pier Into The Ground: The steel shafts of the helical piers are designed with round helical discs to lock up piers in load-bearing soil. We twist each helical pier into the soil using hydraulics to ensure maximum support.
Slow Rotating Installations: As we rotate the shaft of the pier, it will dig further into the ground. The motion of installing a steel helical pier is very similar to that of a wood screw.
Advantages Of Helical Piles and Piers
Helical piers are an increasingly popular option for foundation repair projects. Here are the reasons why you should opt for helical piers installation as a foundation repair solution.
For one, helical piers are versatile. They have many potential applications, making them a great solution for different types of projects.
Helical piers can be used for compression and tension applications, so they are a great alternative for deep foundation construction.
Additionally, helical piers are quick to install. Because they require small equipment, professionals can install them rapidly.
Ultimately, the fast installation provides immediate loading capabilities and greater cost efficiency than other methods.
So, what are you waiting for? Call our team of helical piers installers in Michigan today!
Contact Helical Pier Installation & Foundation Repair Experts In Michigan
Bluebird CFW is here to help you with all of your foundation repair needs in Michigan. We often leverage helical piers for their versatility, quick installation, and cost-effectiveness. Our dedicated team of helical piers contractors in Michigan offers over 20 years of experience with in-house foundation repairs. As your local foundation experts, we are here to help you correct any foundation issues you may have, whether it is an early foundation issue or a prolonged issue.
Our experts will assess your foundation to determine the best course of action. We will consider helical piers and a variety of other solutions before providing you with an honest, reliable quote. Bluebird is the one-stop shop for all of your commercial or residential concrete repair needs. We offer a wide range of foundation services, including concrete step and porch lifting, concrete lifting, foundation repair, and more. Learn more about how we can help you with foundation repair and helical piers. Contact us today for more information!