Grand Rapids, Michigan is one of the most famous cities in America, full of tourists and homeowners that love to explore the neverending sights of this city. One of the biggest attractions is the Grand River which flows through the city, and many homeowners and businesses have decided to place their property next to it!
While the Grand River and other surrounding water in Grand Rapids, MI, can provide breathtaking sights, they can also pose a threat to any property that lies on the banks of the river. Fortunately, we at Bluebird CFW have dedicated our business to helping homeowners and property owners in Grand Rapids protect their homes with seawall repair and seawall inspection services!
What is Seawall Repair?
Seawall repair services are done on seawalls that surround a waterfront property. These seawalls can become damaged over time or due to adverse weather conditions that put pressure on the seawall. If these seawalls break, water can quickly begin to inundate and erode a property that was once protected by the seawall.
Seawall repairs are, therefore, essential in order to ensure the integrity of the seawall, as well as protect the property from further water damage. Seawall repair services are specialized and are only done by a handful of professional companies that have the right tools, expertise, and experience with seawalls.
Fortunately, we at Bluebird CFW offer seawall repair in Grand Rapids, MI. We use state-of-the-art technology and tools to repair your seawalls.
Do I Need Seawall Repair in Grand Rapids, MI?
Seawalls are built to last for quite some time, and they are complex engineering structures that can serve to protect your home for a number of years. Unfortunately, although seawalls might be built to last, they can suffer from structural issues as the years wear on.
Some signs that you might need seawall repair services conducted include cracks in the seawall. These cracks can be seen horizontally near the cap of your seawall, or underwater. In addition to cracks, other signs of a damaged seawall include voids that look like sinkholes located near the edge of the seawall.
If you notice any of these issues and notice visible damage to your seawall, you need to act fast in order to get repairs done right away. Conducting repairs as soon as possible can help prevent other issues from arising, such as flooding and permanent damage that will require you to replace the entire seawall.
Bluebird CFW can help repair your seawall through several methods, including:
1. Sealing cracks using high-quality sealants: Bluebird CFW uses polyurethane sealant or resin to help seal the cracks within your seawall. Polyurethane seawall repairs are tough, and can even help reinforce your seawall making it better than before.
2. Pressure release technology: We will install channels in your seawall to help get rid of the pressure that has built up after a number of years. This pressure builds up due to water overflowing into your seawall. By adding these channels, we can ensure your hydrostatic pressure remains regulated so your seawall does not suffer from built-up pressure again.
Why Get Professional Help for Seawall Repair?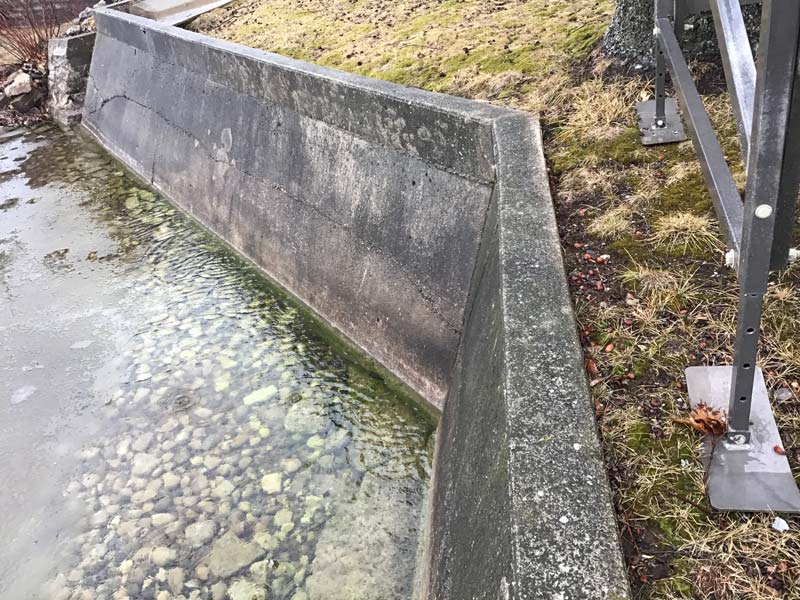 The sooner you initiate repairs to your seawall, the better the chances will be of being able to fix your seawall instead of needing to replace it. Replacing a seawall can be incredibly costly, so it's best to call a professional to help address any issues with your seawall.
Opt for a reputable company like Bluebird CFW, instead of companies that use inferior products like cement or even gravel to fill voids and cracks near your seawall.
Seawall Inspection in Grand Rapids, MI
Bluebird CFW also wants to help homeowners have peace of mind and know that their seawall continues to remain in good condition. We will conduct inspections to your seawall, checking for any cracks in the seawall structure, as well as doing a perimeter check.
These inspections help ensure we catch problems with your seawall before they lead to further damage. Even subtle signs, such as pools of water near the edge of your wall and sinkholes, can indicate massive problems.
Bluebird CFW will send our technicians to check for signs of:
Cracks in the cap or wall panels
Pools of water near the edge wall
Soil Erosion
Voids and sinkholes
Leaning or bowing walls
Seawall Stabilization
If there are any problems with the integrity of your seawall, we can help stabilize the structure by injecting fillers that harden the soil around the seawall. We can also install helical pliers to help support the seawall around your home and around small boat docks.
Combined, these methods can help stabilize your seawall and help it protect your Grand Rapids, MI home or business.
Schedule Seawall Repair Services In Grand Rapids, MI with Bluebird CFW
We want to help you get the help you need to repair your seawall and protect your home from water damage. Call us today for a free estimate or schedule a consultation. We also offer foundation repair, basement waterproofing, crawl space waterproofing and egress window installation in Grand Rapids, MI!