Owning a home is a big responsibility. While most homeowners go above and beyond to maintain their property, they may overlook some aspects, most notably their crawlspaces. After all, most people do not use them frequently.
Unfortunately, water can easily find its way into crawlspaces. Left unchecked, this water can do costly damage to a home. Not to mention all of the unpleasant side effects of a damp, unsecured crawlspace, such as mold, mildew, insects, and other pests.
Luckily for the residents of Grand Rapids, Bluebird Foundation Repair & Waterproofing can help address these issues. We can assess the condition of a crawlspace and provide guidance on the next steps. Here is what you need to know: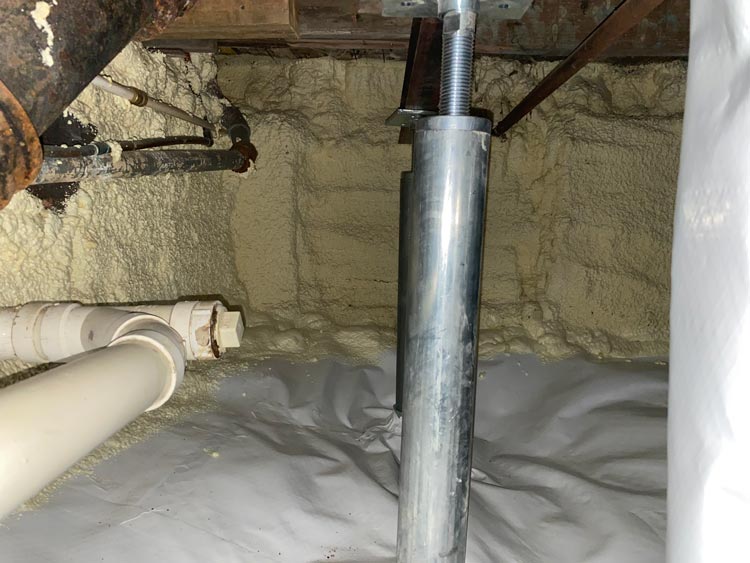 Encapsulation, insulation, waterproofing. What is the difference?
Encapsulation entails using a heavy-duty vapor barrier to seal the crawlspace so that water has no way to get in. This results in a crawlspace that is usable, dry, and clean.
Insulation, on the other hand, consists of sealing off entrances to the crawlspace by using spray foam and foam board insulation. That way, cold air cannot enter and heat cannot leave. This can even result in energy bill reductions and a difference in floor temperatures.
Finally, Waterproofing directs any water in a crawlspace towards a sump pump to guarantee that it is safely evacuated.
How do I determine if a crawlspace needs attention?
While damage to crawlspaces can be difficult for the untrained eye to spot, there are some signs you can look for. For example, if you notice any cracks in the walls of your crawlspace, you will want to act quickly.
Wall cracks are a sign of shifting foundation. These cracks will likely grow with time, allowing water to seep into your foundation.
This creates the perfect environment for pests like insects, rats, and mice.
Additionally, leaks in the crawlspace walls can result in mold, electrical problems, and more.
Waterproofing your home with Bluebird will allow you to rest easy knowing that your crawlspace is dry and pest-free!
Why choose Bluebird?
Not only does Bluebird Foundation Repair & Waterproofing provide affordable home and commercial waterproofing/foundation repair across Eastern Michigan and Northwest Ohio. We also go above and beyond to meet all of our customers' needs.
We have been in this business for over 20 years and always put our customers' needs first. Our top priority is making homes like yours safer, cleaner, and more comfortable than ever!
How can I get started?
Whether you have been experiencing difficulties with your crawlspace for a while or just want to get it looked at before problems develop, Bluebird Foundation Repair & Waterproofing makes the process easy. We offer a free inspection to all potential clients. We also know that your home is one of a kind and will treat it as such, working hard to get to the bottom of the problem and coming up with a quote that you can stomach.
To schedule a free inspection and receive a free estimate, you can reach us at (888) 411-2264. Additionally, feel free to contact us for more information at [email protected] Outside of crawlspace waterproofing, we also offer foundation repair,  basement waterproofing, egress windows and seawall repair throughout Grand Rapids.