The most important element of a building's structure is its foundation. When a foundation is damaged, it threatens the structural integrity and can lead to irreparable damage. This damage can come from a wide range of sources, including water damage from nearby bodies of water and soil shifting.
At Bluebird CFW, our team of specialists works to build and repair foundations for all types of buildings. Working closely with engineers and other expert consultants, we deliver various foundation repair services in and around Cheboygan, Michigan, from small residential properties to large business complexes.
Let's look at some warning signs of a compromised foundation and how Bluebird CFW can help property owners restore their building's foundation to its original state.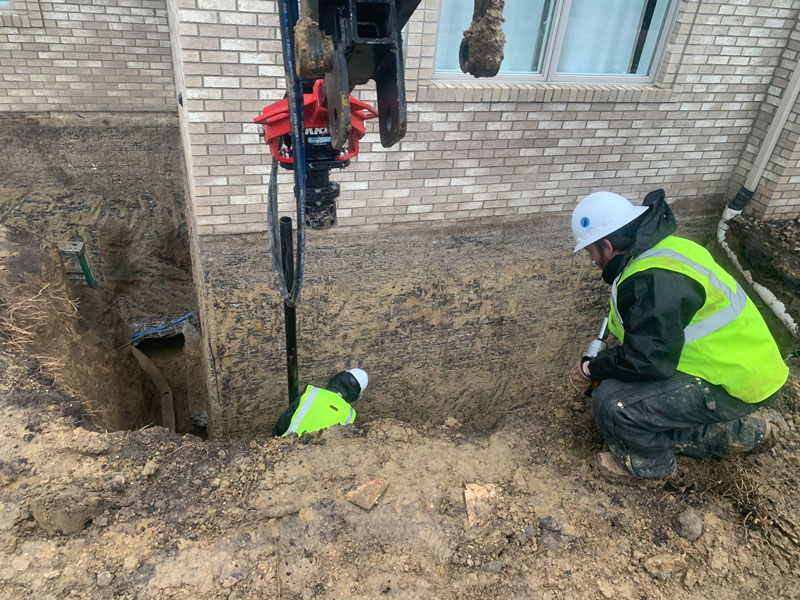 Foundation Repair For Your Residential & Business Property
A damaged foundation poses a range of additional problems for property owners. A quick response is essential to prevent the problem from spreading, whether from water leaking from nearby rivers and lakes, such as Mullet Lake, the Indian River in Cheboygan, MI, or the subsistence of the surrounding soil.
If left unresolved, foundation damage can result in a range of structural problems, including:
Floors are shifting out of position and becoming uneven, with additional damage to floorboards and other flooring.
Door and window frame warping, causing them to jam and stick.
Internal and external wall damage, such as cracks and holes.
Crawlspaces and basements take on water, resulting in an increase in mold throughout the property.
This tangential damage caused by a weak or damaged foundation is a warning sign to property owners that their foundation needs repairing. Taking action now will prevent the cost of fixing the problem in the future from reaching tens of thousands of dollars.
Mold and moisture can cause health issues, including respiratory illnesses, allergies, asthma, and financial costs.
How Bluebird CFW Can Help
Bluebird CFW offers a comprehensive package of foundation repairs and waterproofing to ensure your business or home is safe, addressing any other issues arising from the lack of structural integrity. Our specialists, engineers and consultants provide a complete assessment of the cause of the foundation's damage, recommending the best solution for the customer's needs.
We use the following engineering techniques according to the situation:
Providing additional support to structures with the use of wall braces (soldier beams) or carbon fiber straps.
In more serious cases, fitting deep-driven steel piers reorient the building directly to the underlying bedrock.
Bluebird CFW's specialists can completely drain basements and crawl spaces filled with water and moisture to prevent further damage. This space is then fully waterproofed to prevent any water from returning and causing more damage.
Additional Services Offered By Bluebird CFW in Cheboygan, MI
In addition to foundation repair in Cheboygan, MI, Bluebird CFW offers a range of services to help restore your property to its optimal condition. Our waterproofing services prevent mold from developing and open up new possibilities for using your basement or crawlspace. Other services available from Bluebird CFW include:
Repairing seawalls. You are at risk of damage if you live near a river or lake; your property is at risk of injury due to water leaks and flooding. Over time, this can seriously damage a property's foundations and lead to huge expenses. A seawall prevents water from damaging your building and loosening the surrounding soil.
Laying the foundations for new buildings and smaller structures. A solid foundation is critical if you consider fitting a decking area in your backyard or building a smaller design on your property, such as a garage. Bluebird CFW uses the best pier systems, deploying helical piers for smaller structures that guarantee their integrity over time.
Bluebird CFW's complete range of services is available for residential and commercial buildings, restoring structural integrity and peace of mind.
Arrange a Free Consultation with Bluebird CFW Today
Whether your property is taking on water in the basement or showing clear signs that its foundation is impaired, Bluebird CFW is available for a free consultation. Our engineers will fully assess the structure to determine the best course of action to repair and protect it from additional damage.
Our quotes include a comprehensive breakdown, so you'll have a clear idea of the materials costs and how long the repair will take. Contact us today for more information. Outside of foundation repair, we also offer basement waterproofing, crawlspace waterproofing, and seawall repair throughout Cheboygan, MI.