Brighton, Michigan is one of the most fun places to visit and to live! Located on the crest of the South Ore Creek, and near Brighton Lake and Woodland Lake, there are many homeowners in this city that enjoy the breathtaking views of the serene water.
However, as business owners and homeowners, it's important to protect your property with the help of seawall repair services in Brighton, MI! At Bluebird CFW, we can help protect the integrity of your property by offering high-quality repair services.
Importance for Seawall Repairs in Brighton, MI
The seawall that surrounds your home plays an important role in protecting your property against water damage, flooding, and erosion. Once this seawall becomes damaged, it's vital to stabilize and fill in all cracks and leaks with tough sealants.
At Bluebird CFW, we know how critical it is to repair your seawall as soon as possible, which is why we've used our years of experience and tools to help residents in Michigan repair their seawall before it needs to be replaced.
How To Check For Seawall Damage
It's important to check for any damage to your seawall in order to initiate repairs right away. Some very obvious signs of damage to your seawall include sinkholes forming near the edge of your seawall.
Cracks in the seawall that cause water to leak in to your property are also a sign that your seawall needs extensive repairs.
Water leaking into your property through cracks or missing parts of a wall can cause flooding in your home, as well as continue to erode away parts of your seawall and property.
Other problems that could signal damage to your seawall include voids and soil erosion near the edge of your seawall. These voids appear as holes in the ground or missing pieces of soil that look similar to man-made walking paths. Voids and soil erosion cannot simply be filled and must be taken care of by a professional at Bluebird CFW.
Yet another sign that your seawall is damaged is the presence of horizontal cracks right below the seawall cap. The seawall cap is designed to withstand harsh environmental conditions, preventing water from seeping into the wall and causing structural damage. These cracks can be seen from a distance, so pay close attention next time you're out on the water looking toward your property.
Seawall Cap Repair
Seawall cap repair is fixing any damage to the seawall cap to ensure it continues to function effectively. Seawall cap repair involves thoroughly inspecting the structure, identifying any damage, and repairing it to restore its structural integrity.
Professional seawall cap repair services use specialized equipment and techniques to ensure that the repair is carried out safely and efficiently, preventing further damage to the seawall or the surrounding environment.
Seawall Repair Services by Bluebird CFW
If you notice any of these signs of damage, reach out to Bluebird CFW to get help with your repairs! We can provide:
Sealing of your cracks and sinkholes: We want to get to the root of the problem that is causing your seawall to develop cracks. To repair the integrity of your wall, it's necessary to use tough sealants, such as polyurethane sealant or resin. Our experts have knowledge in seawall repairs and the best tools to use for the job.
Pressure release technology: Just like humans build up pressure when eating too much food, your seawall also builds up pressure due to an influx of water that sits behind the wall, leading to voids and cracks. Our pressure release technology will provide an environmentally-friendly method to get rid of water behind your seawall and prevent future pressure from building up.
Why Get Professional Help in Brighton?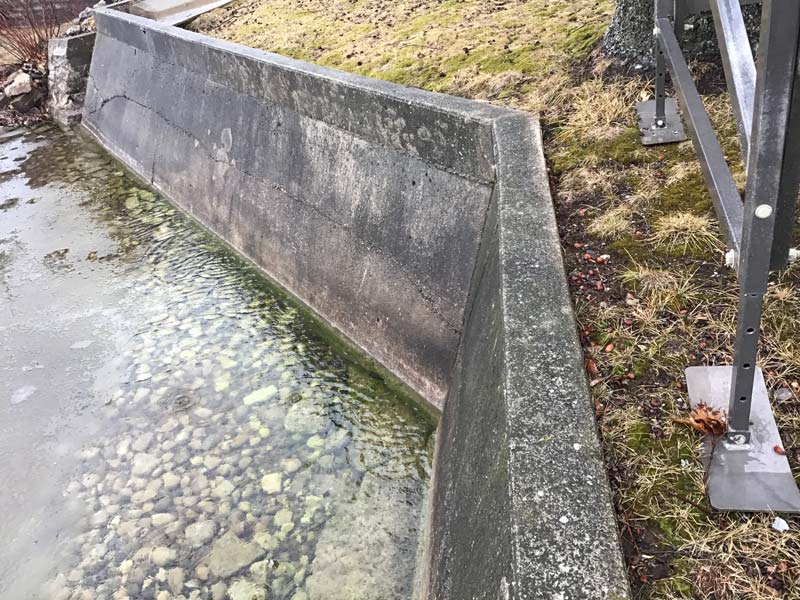 You might want to simply fill in voids with dirt or cement mixes on your property. However, this does not address the underlying issue of your seawall, leading to wasted resources and further damage to your property. With the help of Bluebird CFW, you can get professional help to initiate repairs and save money in the long run.
Seawall Inspection
Bluebird CFW provides experts that can look for cracks in your seawall, voids, and other issues that indicate the need for repair.
We recommend homeowners conduct a seawall inspection once every five years to be on the safe side. However, you can also call us if you notice any signs of deterioration and problems with your seawall, which can include:
Cracks in the seawall
Cracks in the top concrete cap of the seawall
Missing soil
Corrosion to your seawall
Upland settlement
Voids
Soil erosion
Puddles of water near your seawall edge
If you notice any of these signs, we'll send a technician to your Brighton, MI home right away to conduct an inspection and repairs.
Seawall Stabilization
We also use helical pliers to help stabilize and support your seawall. This is an excellent tool for both newer and older seawalls that need help in order to stand sturdy against the rough waters of surrounding lakes. In addition, we can use injections and tough sealants to help get rid of cracks and extend the life of your seawall.
Through seawall stabilization, we can help reinforce your wall so future cracks and soil erosion do not occur, and so that it can stand up to rough conditions for years to come.
Get the Best Seawall Repair in Brighton, MI
At Bluebird CFW, we're on a mission to help the community of Brighton, MI, and the surrounding areas get the help they need to repair their seawall and protect their homes. Call us today for a consultation or an appointment!
Also, don't forget to ask about our additional services: foundation repair, basement waterproofing, crawl space waterproofing and egress window installation in Brighton, MI!