When you think about the word "windows," the word "egress" doesn't usually pop into your thoughts to go with it. However, if you live in Brighton, Michigan, you've no doubt heard about egress windows, especially when it comes to basements.
Why, though? Why are egress windows not just important but requirements for basements?
Well, for a basement to be considered a "living" space, whether it's a space used as a bedroom or home office, it's required to have an egress window. So, if you have a basement and use it for anything other than storage or a temporary shelter, you'll either need an egress window or already have one.
This means if you want to use your basement for a home office for a home-based business or add a bedroom to increase your home's value, you'll need an egress window installed. In any case, the experts at Bluebird CFW are here to help you with your egress window installation needs throughout Brighton, Michigan.
Why Egress Windows?
To egress is to leave a space. So, an egress window provides an alternate way out of your basement, especially during an emergency when your primary exit may not be available.
Another question usually asked is why an egress window is required for a basement. Well, it's because if someone can sleep there, a window large enough to escape out of or for an emergency worker to gain access is required.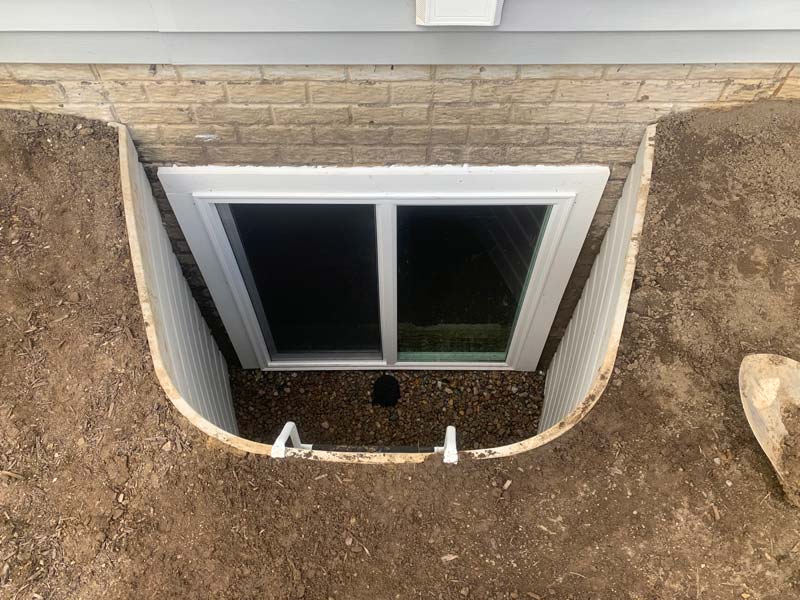 This is already a requirement for any bedroom or living space in a house. All spaces where someone can basically "sleep," even if it's on a couch, have to have another way out of that room in case the primary access is blocked or otherwise unsafe. That way is usually a window.
In regards to a basement, the word "egress" is emphasized because these types of windows have to meet certain code requirements compared to smaller windows used for basic access or ventilation.
And because it is a basement and its egress windows will be below ground level, those egress windows require proper waterproofing, drainage installation, and specific window designs to prevent water intrusion and flooding.
What You Can Expect from Us
Bluebird CFW Foundation Repair and Waterproofing will:
Order all parts
Pull all required permits
Excavate as necessary
Install windows, wells, and associated covers or grates
Minimize dust during installation
Insulate and seal all seams and trims
Backfill land where excavation occurs
Egress Window Installation
After you talk to our experts and decide to proceed with an egress window installation, we'll promptly order all the required products and parts needed to perform the work efficiently with first-time quality. In addition, you won't have to worry about pulling any required permits.
Our team is well-versed in the local building codes in Brighton. All the work will be done to code, and required excavation work will be completed and land backfilled to its original state as much as possible.
Egress windows need to measure at a minimum of 22 inches wide and 24 inches tall and have an egress well with it. A well is necessary for proper egress away from the home. As a result, the well's depth and external space must be greater than the window's height and width. If you don't have an egress window and well already, this is where excavation work will be done.
Because of the complexity of an egress window installation, you can trust our professionals that understand the work involved, as well as all the permit and building code requirements, to do the job right.
Window Well Grates and Covers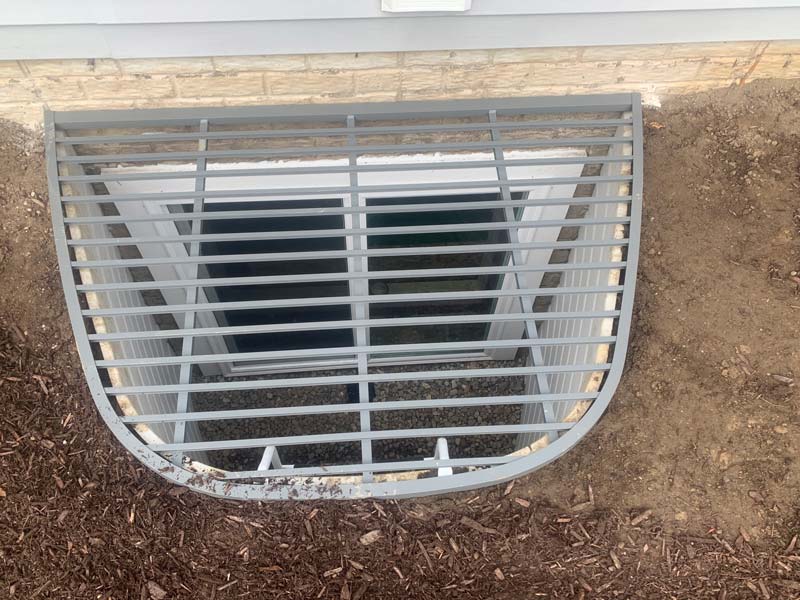 By code, window well covers or grates are required to pass a building inspection upon installation of an egress window. So, if you were wondering if they're an option, the answer is no.
However, you do have options when it comes to design, especially when it comes to the shape of the well and the appearance of the grates and covers. Grates and covers will keep the occasional animal out of your well. They keep yard debris, leaves, and even snow from accumulating in your well. They also help keep water collecting in your well during times of heavy rain.
Concrete Cutting
Concrete cutting is common when it comes to egress window installation. Our team will handle any required foundation or masonry cutting with our special tools and equipment.
We'll also maintain the watertight integrity of your foundation and fix or point out any issues we discover. If you have any concerns, we'll always provide answers and recommendations to ensure your investment is protected.
Egress Window Installation Near You!
Please feel free to contact us if you'd like to speak more with our experts about egress window installation or about our quotes! Also, we provide additional services such as foundation repair, basement waterproofing, crawl space waterproofing and seawall repair in Brighton.