Too often, people dismiss the crawlspace as a shadowy place that simply houses stray laundry and noisy pipes. That said, crawlspaces are just as important as basements as far as waterproofing is concerned. Crawlspace waterproofing is essential for keeping your foundation and home stable.
Bluebird provides exceptional Birch Run crawlspace waterproofing services. We have the knowledge and experience to tackle any waterproofing project, no matter how big or small.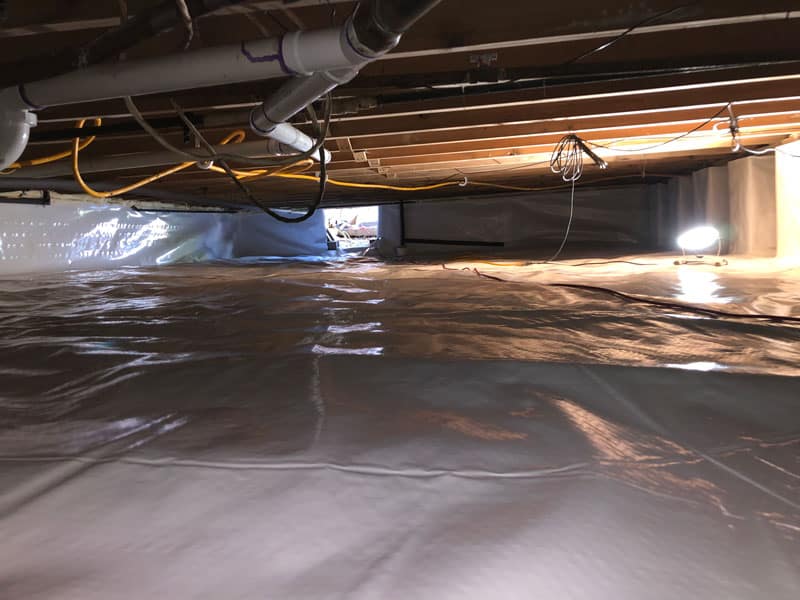 Reasons for Crawlspace Waterproofing
The crawlspace is the small, unfinished area between the ground and the first floor of your house. The primary purpose of the space is to provide better airflow to your home and access to pipes, plumbing, and electrical components that may need attention.
Many homeowners avoid the crawlspace unless absolutely necessary. The tight space can be a bit intimidating, but it's imperative to protect. Because of its location, the crawlspace can flood quite easily if it is not properly protected.
If water makes its way into your crawlspace, you can face a host of serious problems. Moisture in your crawlspace can lead to wood rot and a weaker foundation, mold, pests, and more damage.
Some key benefits of crawlspace waterproofing include:
Structural Integrity – Excess moisture damages the crawlspace. It can rot wood and damage metal. The mold and termites that come with water can also eat away at the structure of your home. Waterproofing adds a barrier that keeps moisture out, and this will help protect the structural integrity of your home.
Reduce Electrical Hazards – A primary function of the crawlspace is to provide access to electrical for repairs. If water and electrical mix, the consequences can be disastrous. Keeping moisture away from the electrical system is essential for safety. Waterproofing can reduce the risk of electrocution and fire in the crawlspace.
Maintain the Value of Your Home – The serious problems that extra moisture in the crawlspace causes all impact the value of your home. Mold, structural damage, and poor air quality will all make your home less desirable. Crawlspace waterproofing ultimately helps you to preserve the value of your home by preventing problems associated with excess moisture in the crawlspace.
How We Get the Job Done
You may be wondering how the crawlspace waterproofing process works. Here, we will break it down into two different terms: insulation and encapsulation.
Insulation – The goal of insulation is to keep the water, moisture, and cold air out while also keeping the toasty warmth in.
Encapsulation – Like insulation, encapsulation keeps water out, but it also seals the crawlspace completely. That way, it is impossible for even the most persistent water to break through and make a mess.
Bluebird Birch Run Crawlspace Waterproofing
The problems that excess moisture and water in the crawlspace lead to are serious and can be frightening. Waterproofing will keep your crawlspace dry and moisture-free.
The Bluebird team is here to help you with all of your waterproofing needs. Our dedicated in-house team is reliable and committed to providing the highest quality services. With over 20 years of combined experience, you can trust us to complete every job skillfully.
We'll start with an evaluation of your crawlspace. Based on what we see, we provide you with a concrete plan to tackle the issue, along with a straightforward quote. Then, we can get to work and help you protect your home.
Call Bluebird to find out more about our Birch Run crawlspace waterproofing and to schedule a consultation. Outside of crawlspace waterproofing, we also offer foundation repair and basement waterproofing throughout Birch Run.