Basements can be incredibly beneficial, as they offer extra storage space, a safe haven from dangerous weather, and so much more.
Of course, basements aren't perfect, especially when it comes to water damage. This is because they are beneath the ground. Humidity also frequently plagues basements. Leaking pipes or foundations are common, causing severe damage that can be expensive to repair.
Unlike your kitchen or living room, you might not go downstairs to your basement every day. That is why it is important to set aside time every once in a while to inspect for water damage.
Basement waterproofing is the best solution for protecting your basement from water damage. The experienced team at Bluebird has quality, affordable Birch Ranch basement waterproofing services to help you.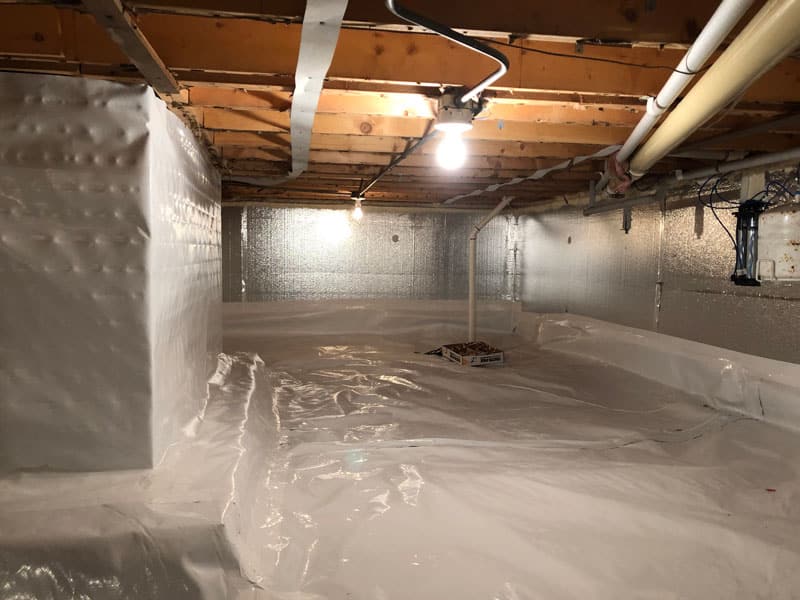 Reasons for Basement Waterproofing
Most people think of basement waterproofing as a way to prevent mildew and mold from growing. This is one benefit (which we will detail more below), but there are many others as well, including:
Prevent Basement Flooding – Basement flooding is a severe problem that you don't want to encounter. It can damage carpet, drywall, and furniture. It will also create that infamous mold and mildew that is so difficult to get rid of. Waterproofing seals foundation cracks. Doing this, in combination with installing a sump pump and drainage system, is the absolute best way to prevent basement flooding.
Healthier Home Environment – Excess moisture or water in your basement creates the prime environment for mold and mildew. Mold is damaging to your property, but it also has health consequences. Mold is harmful to those with asthma and allergies, and it also can cause breathing issues and respiratory infections. By reducing moisture levels and preventing flooding, basement waterproofing helps prevent mold and keep your indoor air healthier.
More Efficient Cooling and Heating – Extra moisture in the air forces your HVAC system to work harder when heating or cooling your home. This alone can bump up your energy bills by up to 15% per year! Basement waterproofing helps control the humidity in your home, thus keeping your heating and cooling bills down.
Prepare for Renovations – Before starting any basement remodels, you should cover all your bases. The best way to do this is to get your basement waterproofed. Completing a renovation before waterproofing puts the entire project at risk. Imagine finally creating a usable living space in your basement just to have to rip it out and repair it due to water damage. Basement waterproofing will help seal your basement and prime it for any renovations.
Bluebird Birch Ranch Waterproofing
Professional waterproofing will keep moisture and water out of your basement to prevent water damage and keep it structurally sound. Bluebird has the tools and experience you need to protect your basement with waterproofing. With over 60 years of combined experience, we have the expertise to get the job done right and efficiently.
Our team will assess your basement and determine the best waterproofing strategy to keep it dry for years to come! Contact us today to learn more and get your free quote! Outside of basement waterproofing, we also offer foundation repair and crawlspace waterproofing throughout Birch Run.