Benton Harbor, Michigan is one of the most popular cities in Michigan, with tourists flocking to see the Paw Paw River and the St Joseph river, crossing paths right in the middle of this gorgeous town. For property owners living in Benton Harbor, Michigan, it's vital to protect your home or business against the waters of these two rivers and the waters of the surrounding Lake Michigan. Fortunately, we at Bluebird CFW have dedicated our business to helping customers in Benton Harbor, MI and surrounding areas protect their property through seawall repair and inspection services!
What are Seawall Repair Services?
Seawalls are vital pieces of equipment that can help protect waterfront properties from damage to the foundation of their homes or businesses. Seawalls are designed to keep out water that has the potential to cause thousands of dollars in damage. To do so, seawalls are reinforced and placed on the surrounding waterfront areas of a home.
Seawalls can be costly to install, so it's important to be able to repair your seawall in order to prevent needing to replace your seawall completely. That's why we at Bluebird CFW to help you right away if you're facing issues with your seawall.
Our experts are trained in recognizing the signs of a damaged seawall, and we make sure to use only the appropriate and high-quality tools to help repair your seawall.
Seawall Repair in Benton Harbor
Seawalls are comprised of a variety of parts, including the wall panels themselves, filter fabrics, reinforced concrete caps, anchors, and other components. When there is a single issue with any of these parts, this can quickly lead to damage throughout the entire seawall.
Because of this, it's important to inspect your home for issues that might need seawall repair. For instance, if you're on your boat in the water and notice horizontal cracks lining the top of the seawall, this indicates a problem with the structure of your concrete seawall.
Cracks that lead to floods and pools of water at the edge of your property are a sure sign of failure. In addition, seeing sinkholes around your property indicates there are voids behind the seawall, which must be filled in as soon as possible.
Bluebird CFW is ready to handle any issues that arise due to defects in your seawall. We can help reinforce and repair your seawall using several advanced methods. These include:
Using high-quality sealants: Bluebird CFW uses only high-quality materials such as polyurethane sealant or resin to fill in cracks in the seawall. Using another product, such as cement or even gravel to fill in the cracks, does not reinforce the seawall, and only acts as a temporary fix. Instead, we'll use high-quality tough sealants to reinforce your seawall instead of simply bandaging it with inferior products.
Pressure release technology: Our unique pressure release technology will ensure all voids in your seawall are filled, and the Earth behind your seawall is ready to tackle rough waters. After filling in any voids, we'll install channels on your seawall panels to help regulate hydrostatic pressure. This allows the seawall to let out water and prevents your seawall from being damaged due to built-up pressure.
Why Get Professional Help for your Benton Harbor, MI Home?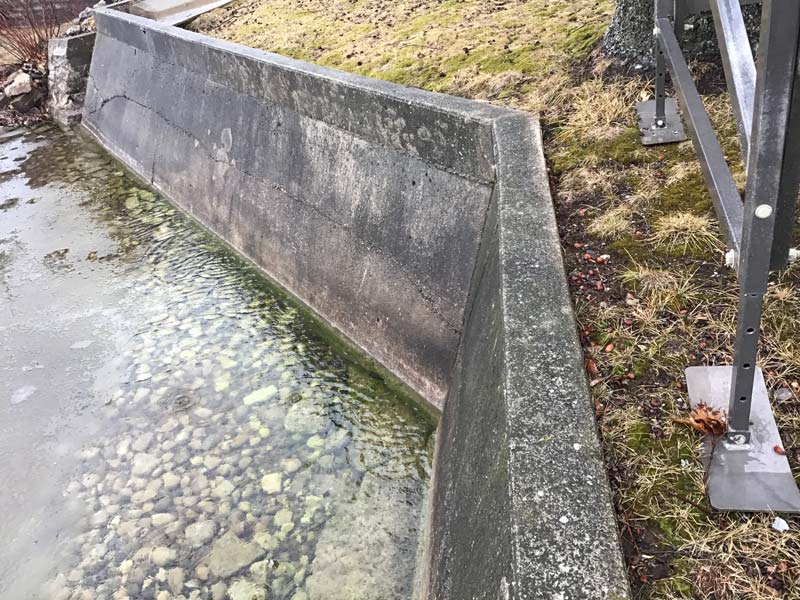 It can be tempting to ignore seawall issues and simply conduct repairs using inferior products. However, you need the help of a professional to truly address any underlying issues causing your seawall to fail. This will ensure your seawall continues to protect your home and do its job of keeping out water.
Seawall Inspection
One of the best ways to prevent costly damage to your home is to conduct seawall inspections. These seawall inspections can be done once every five years, but we recommend getting an inspection done if you've never had one before or your home is older.
Inspections can also be used after a rough storm or inclement weather has plagued the area near your home.
Our pros at Bluebird CFW will conduct inspections that can help spot signs of damage in your seawall. We'll make sure to check for:
Cracks
Pools of water
Soil Erosion
Voids
Leaning or bowing walls
Seawall Stabilization
We also use helical pliers made of high-quality metal to help stabilize and support your seawall. Helical pliers, when combined with high-quality sealants and filling of your seawall, can help provide a sturdy seawall that is stable and sturdy enough to protect your home against the worst weather conditions.
Schedule Seawall Repair Services Today In Benton Harbor, MI
Bluebird CFW wants to help homeowners experience the very best repair services in Benton Harbor, MI! We'll make sure to inspect your seawall for damage, conduct repairs right away, and make sure your seawall is strong and ready to tackle the storms.
Call us today to schedule an appointment for seawall repair and inspection services! Additionally, we also offer repair services for foundation repair, basement waterproofing, and crawl space waterproofing in Benton Harbor!