Benton Harbor homes that do not have basements typically have crawlspaces. While the crawlspace isn't a place you see daily, it's somewhere you want to protect from water.
Crawlspaces are often forgotten about when it comes to waterproofing, but they shouldn't be! When water gets into your crawlspace, it can cause mold, mildew, pests, and severe damage. Crawlspace waterproofing helps to protect your home and foundation.
Bluebird Foundation Repair & Waterproofing offers quality crawlspace waterproofing services for Benton Harbor residents. Let's examine some reasons to get your crawlspace waterproofed.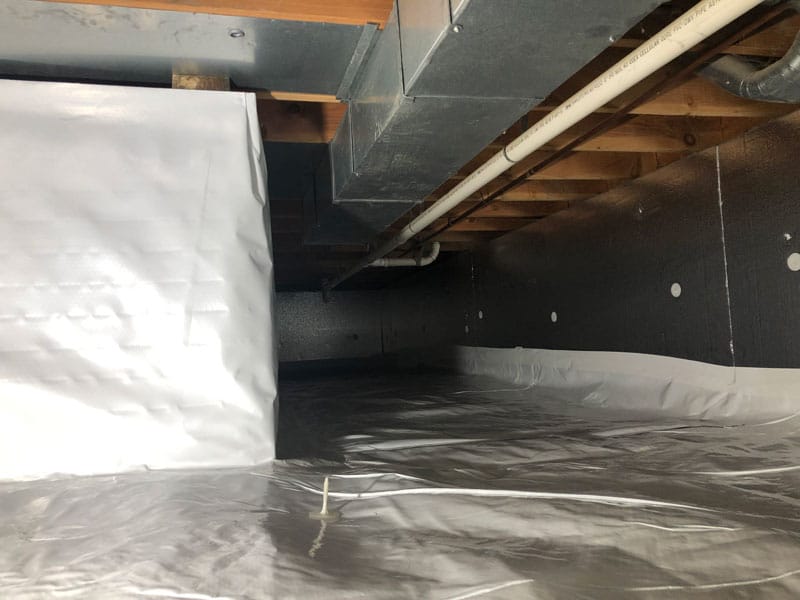 Reasons for Crawlspace Waterproofing
Your crawlspace is between the ground and first floor of your home. It's an unfinished space that is often quite the tight squeeze. Unlike a basement, it does not offer an opportunity to expand your living space. While you can use it for some storage, the main purpose of a crawlspace is to provide an access point for electrical and plumbing.
Even though the crawlspace is a tight area with limited space, it's not a place to ignore. Crawlspaces are highly susceptible to flooding and should be treated with care.
If you let water find its way into your crawlspace, you may face some of the following issues:
Mold and Mildew – Moisture in a dark, cool space is a recipe for mold infestation. The crawlspace facilitates airflow into your home, meaning that you do not want mold growing there. Once mold gets into the crawlspace, it will affect your air quality and will be very challenging to remedy.
Pests – Water also brings pests with it. Mosquitoes, bugs, and even rodents are attracted to sitting water. Keeping water out of your crawlspace will also help keep unwanted critters out.
Wood Rot – Water, along with the fungus and organisms it brings, can cause some serious wood rot. Rotted wood is fragile and not suitable for your crawlspace. Once wood rots, it loses its strength and can compromise the durability of your foundation. Ultimately, this can lead to even bigger foundation problems.
What Bluebird Has to Offer
If you're worried about that bitter cold or rain finding its way through your crawlspace, you don't have to. At Bluebird, we have the tools to keep your crawlspace dry. We offer two approaches in particular: insulation and encapsulation.
Insulation
Insulation serves as a sort of shield for your home. It keeps the cold air from piercing through and sending a shiver down your spine and an unmovable ice through your pipes. It also ensures that that precious heat does not go anywhere, which you certainly need during those Benton Harbor winters.
Encapsulation
Rainstorms are annoying when it comes to plans for picnicking and going to the beach; they're downright terrible if you fear that your basement will flood the moment the rain picks up. Encapsulation seals your crawlspace completely so that no water can ever get through. We will even search your crawlspace for any points of entry and ensure that they are completely closed off.
Bluebird Benton Harbor Crawlspace Waterproofing
Our in-house waterproofing team has many years of experience with crawlspace and basement waterproofing. We focus on quality and service, ensuring an excellent job each and every time. We will start by examining your crawlspace to determine the best waterproofing strategy. Then, we can provide you with a transparent and honest quote.
The size of the home and crawlspace will impact the cost, but you can always count on a fair price from Bluebird. We guarantee reliable service from our knowledgeable in-house team. No matter how big or how small, we'll do the job right and help you safeguard your crawlspace from water.
Now is the time to protect your crawlspace with Benton Harbor crawlspace waterproofing. We're happy to answer any questions you may have or tell you more about our service and experience. To learn more or schedule an appointment, contact Bluebird today! Outside of crawlspace waterproofing, we also offer foundation repair, basement waterproofing and seawall repair throughout Benton Harbor.