Bay City, Michigan is located right on the banks of the beautiful Saginaw River. With so many activities to do, such as kayaking and hiking, and the beautiful scenery, it's no wonder many homeowners and business owners are buying property in Bay City, MI.
However, property owners need to protect their homes and businesses against erosion with the help of seawall repair in Bay City, MI by Bluebird CFW! We'll help repair your newly installed seawalls, conduct inspections, and recommend the best options so your home continues to stay protected against the waters of the Saginaw River and surrounding lakes.
How Critical are Seawall Repairs in Bay City, MI?
Seawalls are installed around the entirety of your property and can help protect your home against erosion, water damage, and flooding. However, seawalls aren't immune to damage. In fact, the more damaged a seawall becomes and the more time it takes for you to initiate repairs, the greater the chances are of your seawall completely crumbling and needing to be replaced completely. That's where our seawall contractors come in.
Fortunately, we at Bluebird CFW have dedicated our services to helping home and property owners in Bay City, MI, find the best solution to repair their seawall as soon as possible. We're here to offer seawall repair in Bay City, MI using the proper tools and expertise. Not all companies are trained in providing seawall repair, so it's critical to find one like ours that is dedicated to helping you protect your home.
Seawall Repair for your Bay City, Michigan Home
Seawalls are a feat of engineering, but that doesn't mean they're perfect. In fact, over time, your seawall can become damaged due to natural erosion, rough waters, and due to structural defects in your seawall.
Voids, which can look like sinkholes on your property, indicate there are cracks in your seawall that need to be addressed as soon as possible. In addition, if you notice any water coming onto your property and pools of water, this is also a sign that there might be cracks in the structure surrounding your home.
In addition, other signs that your seawall might be failing include cracks at the top of your cap, which can be seen from high above your property and the water line.
If you notice these signs on your seawall, it's important to reach out to us at Bluebird CFW right away. We'll get you set up with a technician who is trained in providing high-quality services for your seawall. This includes:
Sealing of seawall cracks: Sealing the cracks in your seawall and surrounding areas isn't an easy task. It takes expert care and the proper tools to be able to effectively seal any leaks in your seawall. At Bluebird CW, we use high-quality sealants to prevent cracks from arising again, including polyurethane sealant or resin.
Pressure release technology: When your seawall starts to fail, pressure builds up on the back of the wall, leading to cracks and structural damage. Our pressure release technology reinforces your seawall and controls the release of hydrostatic pressure effectively, so you can ensure no future structural damage will impact your seawall.
Why Get Professional Help in Bay City?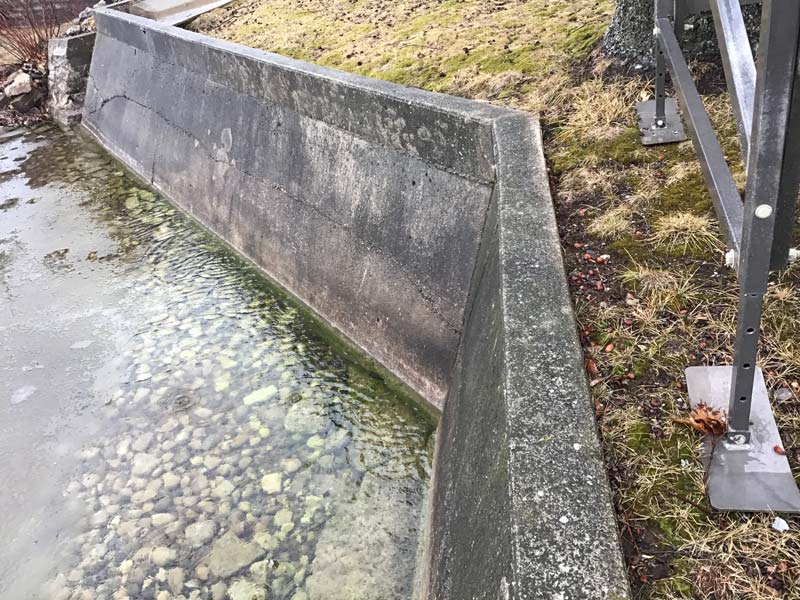 Only a trained professional will be able to inspect your seawall for slight signs of damage, as well as recommend the best treatment and repair for your seawall. Don't rely on inferior cement sealants or skimp on repairs, as seawall cracks can quickly lead to permanent damage that will be costly to replace. Instead, contact us at Bluebird CFW to get the latest help in seawall repair technology.
Seawall Inspection
At Bluebird CFW, we know how valuable your money is, and just how important it is for you to protect your investments, including seawalls. That's why we offer inspections if you notice any issues with your wall, or during the recommended time frame of once every five years.
Our technicians provide thorough inspections to check for:
Cracks in the seawall
Cracks in the top concrete cap of the seawall
Corrosion to your seawall
Upland settlement
Voids near the seawall soil
Leaning or bowing walls
Seawall Stabilization
We also use helical pliers made of high-quality metal to help stabilize and support your seawall. These helical marine anchors are placed around your seawall to provide stabilization during the construction process and during repairs.
We can also stabilize your seawall by using tough sealants and filling in any voids. By reinforcing both the earth and the seawall itself, you can get a rock-solid barrier that will protect your Bay City, MI home for years to come.
Get the Best Seawall Repair Services in Bay City, MI
Seawalls are engineering masterpieces that provide vital support and protection to a home. At Bluebird CFW, we'll provide the best services to ensure your seawall has been installed properly, conduct repairs and inspections, and stabilize your seawall so it continues to protect your Bay City, MI home.
Call us today to schedule an appointment for seawall repair in Bay City, MI and inspection services! We also offer additional services such as foundation repair, basement waterproofing, crawl space waterproofing and egress window installation!