If you have a basement and are concerned about water or see evidence of a possible waterproofing problem, don't wait to have it inspected. Fixing a potential waterproofing problem early can be the critical difference between making minimal repairs or cleaning up catastrophic flooding.
Yes, that may sound a bit dramatic. However, quality basement waterproofing is essential to ensuring that:
Water stays out of your basement
Your property's structure and foundation are maintained and protected
Your property's value remains stable, with the potential to grow
These are all obvious reasons to keep your basement properly waterproofed. However, with the weather we often enjoy in Alpena, MI, we know that water and basements are constantly at odds with each other. That means basement waterproofing needs to get inspected, maintained, and often repaired regularly.
That means only some basement needs waterproofing repair work done every year. If there's a small indication of a potential water problem, even a warning sign, it's worth taking the time and getting a free inspection by the pros at Bluebird CFW.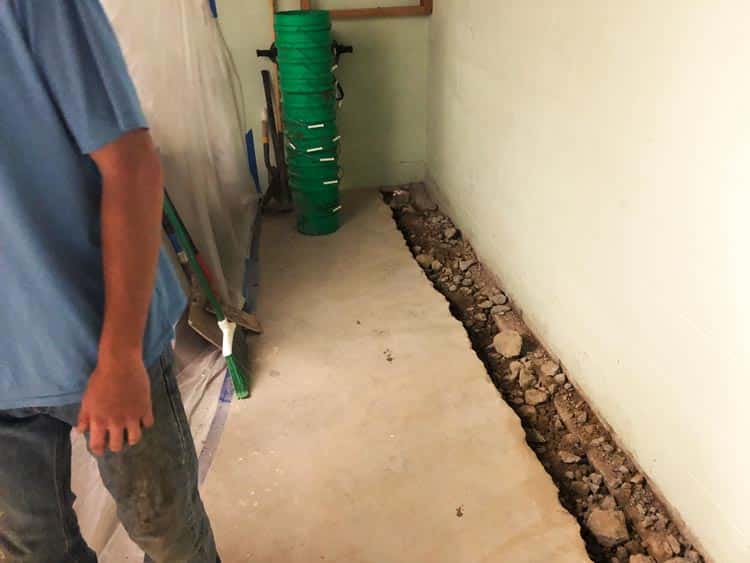 Steps to Basement Waterproofing Repair
Even if you believe your basement's waterproofing is adequate or relatively new, you should inspect it at the very least if you notice signs of water intrusion. If there's water present or further water damage, you will likely need some repairs to your basement's waterproofing, no matter how new it is.
So, how does our team at Bluebird CFW in Alpena, MI, determine the appropriate waterproofing repair? If you schedule a free inspection, we can determine what is wrong with your basement.
1. Inspection
An inspection is always the first step in any basement waterproofing estimate, whether a new installation or repair. If we don't understand the underlying cause of your basement water issues, we'll be putting a band-aid on a larger potential problem. That's why the inspection is so critical. We'll be able to tell you exactly what the issue is, how to repair it, and provide a cost estimate. And again, our inspection is free.
2. Exterior Problems
Just because there is water intrusion in the basement does not imply that the main problem is with the basement itself. Even the best waterproofing has a hard time standing up against mother nature. Having your basement's land graded usually drains water toward your house, frequently resulting in water issues.
In addition, if your home has rain gutters that drain right next to the property's foundation, you're providing a direct path for water to reach your basement quicker and in greater volume. Our inspection will tell you if you need to fix things like drainage on the outside to give your basement a chance.
3. Sump Pump Installation
Your property should already have a sump system installed if its relationship to the local water table is one where water is always an issue around your foundation, then you should already have a sump system installed. A sump system manages the water that naturally collects in and around your basement, drains it, and keeps the water controlled so that it doesn't overwhelm the basement.
If you have an old sump system, you may need to have it updated or replaced. If you need a sump system, our inspection will reveal whether you should.
4. Cracks and Leaks
If your basement has visible cracks and leaks in the walls, repair them as soon as possible. Cracks provide a path of least resistance for water to enter your basement. Fixing them with waterproof sealant is a necessary first step.
5. Sealing the Rest of the Walls
Even if you can't see any cracks on the walls, ensure they get properly sealed inside and outside. Consider coating them with waterproofing if not done properly.
6. Ventilation and Dehumidifier
Sometimes basements will feel damp, even if there aren't any leaks or flooding. Installing a dehumidifier or improving ventilation can help reduce moisture while preventing mold and mildew growth.
The right waterproofing repair depends on the inspection results and any problems arising while the work gets done. Our team at Bluebird CFW will always recommend the best course of action to meet your needs.
Have you experienced flooding or mold?
You know your basement needs new waterproofing and repair work; if you have found mold, you know your basement needs new waterproofing and repair work. We're often able to provide more cost-effective options for repairs and waterproofing when the task at hand seems overwhelming. Even if the repairs look incredibly serious, our pros can handle them. Contact us to get your basement restored right away.
Contact Us For Basement Waterproofing in Alpena, MI!
When it comes to basement waterproofing in Alpena, MI, there's no better team to trust than ours. We understand the importance of protecting your basement from water damage and ensuring a dry, safe, and livable space. Our dedicated professionals are well-versed in basement waterproofing techniques, allowing us to provide effective solutions tailored to the specific needs of your property.
But that's not all we offer. In addition to basement waterproofing, we also specialize in foundation repair, addressing any issues that may compromise the stability of your home. Our expertise extends to crawlspace waterproofing, where we can safeguard your crawl space from moisture and potential damage. Furthermore, we offer seawall repair services to protect and maintain the integrity of seawalls in coastal areas.
So, whether you require basement waterproofing, foundation repair, crawlspace waterproofing, or seawall repair in Alpena, MI, we have the knowledge, skills, and resources to deliver exceptional results. Contact us today to discuss your needs and let our team provide you with reliable and comprehensive solutions to protect your property.