Discovering water in your crawlspace can certainly be shocking. It does not even take much water to cause expensive damage, especially if your crawlspace has not been maintained in a while.
In fact, it is easy to forget that your home in Traverse City has a crawlspace at all. Nevertheless, maintaining the crawlspace to your home is vital to keeping your entire house clean, safe, and valuable.
Fortunately, Bluebird Foundation Repair & Waterproofing has the right waterproofing resources and methods to keep your home's crawlspace free from further damage. We have been doing this for over two decades and have seen it all. We want to help you next!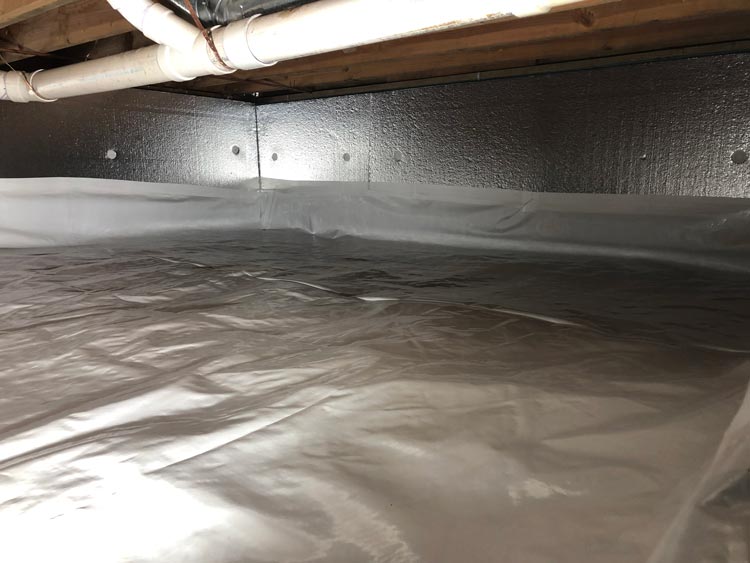 First, let's talk about what waterproofing entails, as well as the difference between two key protection features for any crawlspace, encapsulation, and insulation.
Why is Crawlspace Waterproofing Crucial?
Detecting water damage in your crawlspace can be difficult, as the space itself may be hard to access. To complicate matters, the crawlspace rests between the ground and foundation of your home, where moisture is most likely to gather. This makes it susceptible to water damage. By waterproofing your crawlspace, you can prevent unpleasant issues such as foundation rot, mold, and pest infestations.
If you are not looking for crawlspace waterproofing in Traverse City, we offer other services as well. For any dry crawlspace, you have the option to encapsulate without waterproofing. However, any crawlspace with standing water will not receive encapsulation without prior waterproofing.
Crawlspace Encapsulation
Encapsulation seals the crawlspace so that water simply has no way in. As a result, you do not have to worry about mold ever getting the chance to grow. Encapsulation also provides protection from heavy rainstorms.
The cost of encapsulation greatly depends on the size of your crawlspace, but we will work with you to come up with a plan that makes sense for your home and your budget. Contact us for the best crawl space encapsulation in Traverse City, MI.
Crawlspace Insulation
Insulation allows your crawlspace to maintain a stable temperature. With a stable temperature, your crawlspace is less likely to endure freezing and condensation. Moreover, insulation ensures that heat cannot escape your home, a feature you will appreciate when December rolls around and you start dreading higher heating bills.
Both encapsulation and insulation have the power to turn your crawlspace into a dry, purposeful space. Using protective, heavy-duty barriers are key to keeping your crawlspace properly maintained.
During inspections, we will provide you with full transparency as to how you should go about protecting your crawlspace. In all cases, our team is eager to assist you in transforming your crawlspace! With our guidance, you can stop water from encroaching on your territory and wreaking havoc.
You can be certain that Bluebird will protect your crawlspace from the elements.
Cost To Waterproof a Crawlspace
Depending on several factors, the cost to waterproof a crawl space varies from the size of the crawl space, the extent of damage or moisture, and the type of waterproofing solution required. It typically includes cleaning and drying the area, repairing any damage or leaks, and installing a vapor barrier and a sump pump system. Additional costs may include insulation, dehumidifiers, and structural repairs.
Crawlspace Repair and Waterproofing in Traverse City, Mi
At Bluebird Foundation Repair & Waterproofing, our goal is to be cognizant of your budget and relieve you from the stress of a water-damaged crawlspace. Give us a call today to schedule your free inspection and estimate!
We look forward to servicing your Traverse City home in the future! Outside of crawlspace waterproofing, we also offer foundation repair, basement waterproofing, and seawall repair throughout Traverse City.