It is easy for people to overlook their crawl spaces because they are only in them sometimes. Furthermore, even people with experience with home improvement and renovation projects must remember to take care of their crawlspace. For this reason, it is not unusual to watch as a crawlspace degrades, falls apart, and rots because of the presence of water.
Moisture problems can lead to major issues for a crawlspace, so you need to count on the experts for help with crawlspace waterproofing repair in Petoskey, MI. We are Bluebird CFW Foundation Repair & Waterproofing and have tremendous experience helping people of all backgrounds with issues related to their crawlspaces. We would be happy to help you waterproof your crawl space, so learn more about our services below. Then, give us a call to schedule an appointment.
The Problems with a Wet Crawl Space
A wet crawl space is one of the most common problems we see in the local area. Several factors contribute to this being such a big problem. First, mold is like a wet crawl space, which uses it to fuel growth and expansion.
Then, because a crawl space is so close to the floor joists, it can cause the wood to start to rot. It can cause mold to spread to other parts of the home, in addition to contributing to major structural concerns. Eventually, this could lead to major repair bills you'd prefer to avoid.
You should install waterproofing all over your home. At Bluebird CFW Foundation Repair & Waterproofing, we would be happy to help you waterproof your crawl space and prevent this issue from returning.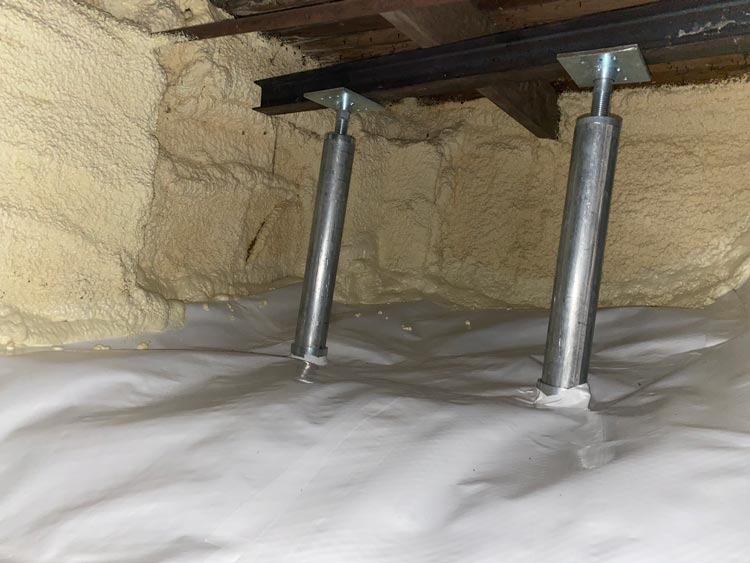 Cracks in the Crawl Space Walls
If you see cracks in the walls of your crawlspace, this is a sign that something is wrong, and you need to address it as quickly as possible. If you spot these cracks, it might be a sign that settling occurs in and around your foundation. Or, it could be a sign that tree roots are placing pressure on the walls of your crawlspace. If this happens, you should look into any water problems in your house. Taking action will quickly prevent the problem from worsening.
If you have cracks in your foundation and crawlspace, they could start to open up. Then, they could lead to bigger problems, such as animals getting into the interior structure of your home, leading to worsening concerns. It is a serious issue, and you need to work with a professional who can look at your foundation for you and give you some ideas on how to address it. At Bluebird CFW Foundation Repair & Waterproofing, we would be pleased to help you with that.
Why Is It Important to Waterproof Crawlspaces?
Waterproofing crawlspaces is of utmost importance for several reasons. First and foremost, crawlspaces are susceptible to moisture intrusion, which can lead to many issues. Excessive moisture can cause mold and mildew growth, leading to potential health hazards for residents.
It can also result in wood rot and decay, compromising the property's structural integrity. By waterproofing crawlspaces, you create a barrier against water seepage, preventing these problems from occurring or escalating. Additionally, a waterproofed crawlspace helps maintain a stable indoor environment by reducing humidity levels and preventing musty odors. It also contributes to energy efficiency, as a dry crawlspace eliminates the potential for moisture-related damage to insulation and HVAC systems.
Moreover, waterproofing crawlspaces can protect against pests such as termites and rodents that thrive in damp environments. Overall, investing in crawlspace waterproofing is a proactive measure that enhances your property's longevity, health, and value while providing a clean and safe living environment for you and your family.
Crawlspace Waterproofing Services Near You!
Bluebird is the leading expert in crawlspace waterproofing in Petoskey, MI, providing homeowners with reliable solutions to address moisture issues in their crawlspaces. We understand that crawlspaces are susceptible to excess humidity, water seepage, and dampness, which can lead to problems such as mold growth, wood rot, and compromised indoor air quality.
With our expertise and attention to detail, we offer comprehensive crawlspace waterproofing services in Petoskey, MI, tailored to the unique needs of homeowners. Our team conducts thorough inspections to identify the source of water intrusion and develop a customized plan that combines the use of high-quality materials and advanced techniques to seal and protect your crawlspace effectively.
By investing in crawlspace waterproofing, you can create a healthier living environment, protect the structural integrity of your home, and prevent costly repairs in the future. Contact us for professional crawlspace waterproofing in Petoskey, MI, and enjoy the peace of mind that comes with a dry and well-protected crawlspace. Additionally, don't hesitate to ask about our other services, including foundation repair, basement waterproofing, and seawall repair.