The condition of your crawlspace can greatly influence the health of your entire home. As such, waterproofing your crawlspace can prevent future problems and create a more favorable living space for you and your family.
Bluebird Foundation Repair & Waterproofing is here to help those in Jackson, Michigan with all crawlspace waterproofing in Jackson, MI. We have been offering this service for over two decades and remain as dedicated as ever. Specifically, we specialize in crawlspace encapsulation and insulation.
So, what's the difference between encapsulation and insulation, and how can they contribute to the health of your home? Here is everything you need to know: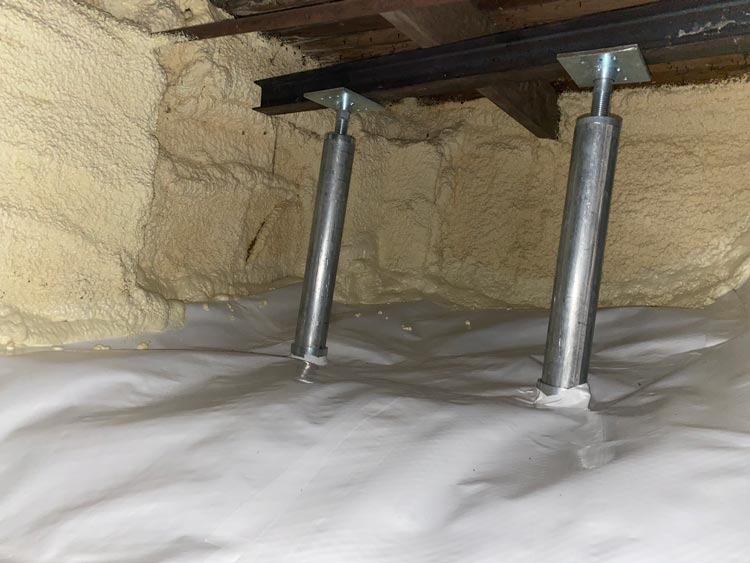 Why Waterproof a Crawl Space?
It doesn't matter if it is spring's heavy rainfall or winter's bitter frosts. Extreme Michigan weather conditions can result in excessive moisture in your crawlspace. When water collects, it provides the perfect breeding ground for unwanted guests like mold, insects, mice, and other vermin. What's more, water damage can cause structural problems that will worsen your home's structure over time.
Needless to say, waterproofing is an important step to take to prevent potential issues that can hurt the integrity of your home's structure.
Crawlspace Encapsulation
Encapsulation targets water and moisture problems by fully sealing off the crawlspace, making it impenetrable to water and other bothersome elements. Eventually, you and your family may notice a marked difference in air quality, especially once any musty odors fade away.
Encapsulation can also prevent the growth of fungus, mold, and mildew. Finally, it can halt structural damage in its tracks by preventing wood rot.
Signs that your crawlspace needs encapsulation include:
Standing water
Moisture accumulating on the crawlspace walls
Wet soil (particularly if the crawlspace has a dirt floor
Crawl space encapsulation is a popular solution for homeowners who want to protect their crawl spaces from moisture, pests, and other sources of damage. We offer high quality crawl space encapsulation in Jackson County.
Crawlspace Insulation
Crawlspace insulation can make a bigger difference in both comfort and energy efficiency. An uninsulated or improperly insulated crawlspace often causes about 15% of a home's total heat loss. By keeping outdoor air from getting in your home, insulation helps to avoid floors from becoming icy cold and stops pipes from freezing.
Insulating the crawlspace with spray foam creates an air barrier. This method keeps the cold out while also successfully reducing potential mold growth and preventing pipes from freezing. It is important to keep pipes from freezing, as frozen pipes are much more likely to burst. This leads to more water and moisture problems in the crawlspace. Finally, insulation keeps your home more comfortable by preventing warmth from escaping, which means you do not have to crank the heat so high all the time.
Crawl Space Repair in Jackson County
Crawl space repair is for homeowners experiencing problems with their crawl spaces. These issues can range from moisture buildup and water damage to sagging floors and poor indoor air quality.
Professional crawl space repair services in Jackson County can provide comprehensive solutions to these issues, including structural repairs, moisture control, insulation, and encapsulation. The crawl space repair cost varies depending on the extent of the damage and the specific repairs needed.
Contact Bluebird for Crawlspace Waterproofing In Jackson, MI
Although crawlspaces are often overlooked, waterproofing is a key step to take for the well-being of your home as a whole. Overall, creating a healthier crawlspace can prevent rot, mold, and structural problems from compromising the rest of the home, while improving comfort, performance, and value.
Contact us today to have one of our experts evaluate the needs of your crawlspace and leave you assured of the health and safety of your home. Get your free quote or call us at 888-411-4264. Outside of crawlspace waterproofing in Jackson, MI, we also offer foundation repair, basement waterproofing, crawlspace waterproofing, egress window installation and seawall repair throughout Jackson.