Basements are the perfect storage spaces for many Jackson homeowners. That is why it is so upsetting when basements flood, damaging perfectly good furniture, carpet, and other cherished items.
Fortunately, you can act before water damage takes hold. Our innovative waterproofing experts have the expertise to make your basement dry and warm for years to come.
With over 20 years of professional experience Bluebird Foundation Repair & Waterproofing offers high quality basement waterproofing in Jackson, MI! No job is too big or too small for us. Here is what you should know first:
Pros of Basement Waterproofing
Whether you want to repair a leaky basement or just take precautions before any leaks occur, basement waterproofing is the answer. There are plenty of benefits to waterproofing, including:
Overall Property Value Increase – Waterproofing your basement can increase the value of your home. Jackson homebuyers are searching for homes that don't have the telltale signs of water damage, such as musty odors and unpleasant drafts. These issues are expensive to resolve out-of-pocket, which is what most people seeking a new house want to avoid. If your basement has already been waterproofed, you will likely thrive in this competitive housing market.
Higher Air Quality – Two common but unfortunate results of water damage are mold and mildew. It's important to tackle these issues as soon as they occur. Both mold and mildew cause low air quality, which is especially dangerous for those with allergies and asthma. Basement waterproofing will not only prevent mold and mildew from growing, it will also improve the overall air quality in your home. This will allow your family to breathe better AND feel great!
Lower Insurance Costs – Since water damage is frequent in Jackson homes, many homeowners have to claim the problem on their home insurance policies, which is a costly and grueling process. Basement waterproofing will leave your home with one less thing to worry about when it comes to hefty insurance rates.
Remodeling Precautions – Considering a remodel of your basement? In that case, waterproofing your basement is an especially smart move, as it will save you time and money in the long run by preventing water damage. After all, a long-lasting renovation is always valuable.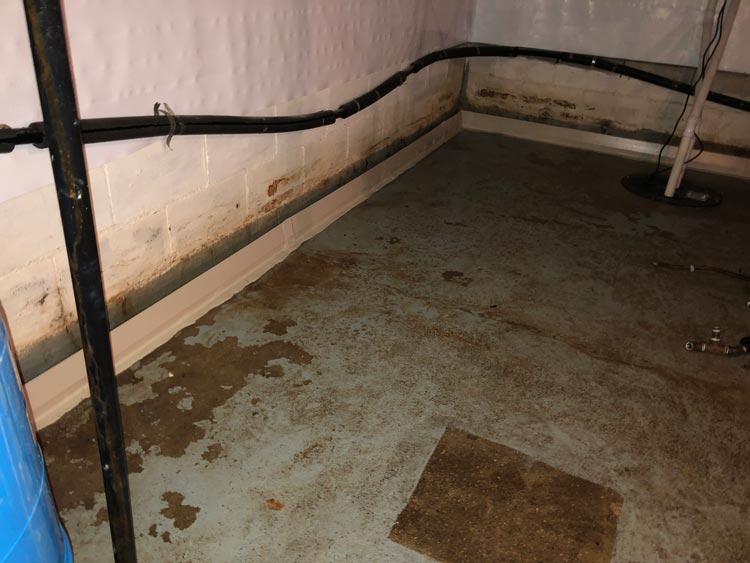 What To Do During Water Damage
When water infiltrates your basement, you may feel understandably frustrated. Private documents, family scrapbooks, holiday decorations, and other special treasures may be stored in this space. Plus, basements are integral to so many Midwestern homes.
Water damage in the basement can be a homeowner's worst nightmare. It can cause significant structural damage, mold growth, and ruin valuable possessions. Immediate action is necessary to prevent further damage and restore the affected area. Whether through professional restoration services or DIY methods, timely intervention is crucial to minimize the long-term effects of water damage in the basement.
Luckily, Bluebird understands how to handle these everyday stressors by ensuring the ultimate, cost-effective protection for your own basement:
We rapidly diagnose the cause of the water.
Then, we provide the proper waterproofing strategies custom-made to your home. If the diagnosed issue is more extensive than anticipated, we will help come up with a cost-effective plan for water damage.
Contact Us!
Contact Bluebird Foundation Repair & Waterproofing to get your free quote or schedule an appointment. Call us for your free inspection and estimate today at (888) 411-2264! We assure we provide the best water damage and basement waterproofing in Jackson, MI.
As your trusted source for any waterproofing needs, we look forward to working with you. Outside of basement waterproofing, we also offer foundation repair, basement waterproofing, crawlspace waterproofing, egress window installation and seawall repair throughout Jackson.