No homeowner should ignore the foundation of the home. Even though you can't readily see it, that foundation is what is keeping your home standing on solid ground. Your home may have foundation issues that need attention right now. However, because your home's foundation extends beyond the surface, you might not think much about it until a problem is begging to be fixed. Our foundation repair in Brighton, MI offers detailed inspection of the foundation and a plan to fit the needs of the your home.
At Bluebird CFW, we are specially equipped to handle even the most pressing foundation problems. Here, we will review what foundation repair entails and why it's so important to your home: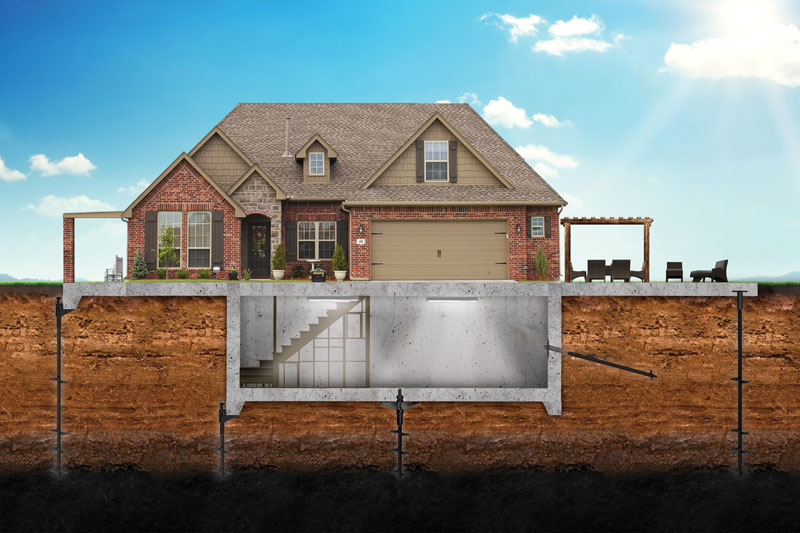 Signs of Damaged Foundation
Your home's foundation entails more than just the ground. Everything from your walls to floors to the chimney belongs to the foundation. With that in mind, here are some common issues that you should always be on the lookout for:
Cracks in Floor – Whether you have ceramic tiles or concrete, cracks can occur anywhere on your floors. If you spot any cracks, don't panic, but do aim to get them corrected right away with concrete foundation repair in Brighton.
Cracks in Drywall – Drywall cracks sometimes blend in, so you will want to inspect your drywall thoroughly if you suspect them. If they go undetected, they will likely keep widening as your foundation moves about.
Cracks in Brickwork – On the other hand, cracked brickwork tends to be very easy to spot. Not only is it a sad sight, it can also be a sign that much more costly damage lies ahead, so address these cracks immediately.
Cracks in Corners – Have you been noticing gaps in your siding? Cracks may be forming! Do not wait until the problem gets out of control.
Leaning Chimney – A leaning chimney is not some unique feature; it could be a sign of severe foundational damage. If you notice that your chimney is leaning to one side, call a repair expert right away.
Why is Foundation Repair Worth it?
Foundational damage is rarely an isolated incident. Once one part of your home sustains damage, other areas will likely follow suit. This applies to even small problems. Small problems can grow quickly, so act as soon as possible to get your foundation repaired in your Brighton home.
Certified Foundation Repair Services in Brighton
If you have read this far and realize with dread that your home is showing some signs of foundational damage, do not fear. At Bluebird, we can help reverse these troublesome issues.
We are a RamJack certified installer, which means the materials we use to repair your foundation are properly certified, and they have the test results to prove it. They can even hold up to those harsh Brighton winters.
Moreover, we offer both helical piering systems for lightweight structures and deep-driven steel piercing systems for heavy structures.
If your walls and beams need extra support, we will employ carbon fiber. Falling slabs? Those are no match for our slab brackets, strong enough to hold up a concrete foundation.
Hire Bluebird For Foundation Repair Needs in Brighton, MI
Foundation companies near you offers a variety of services, including foundation repair, basement waterproofing, and crawl space encapsulation, to help protect your home's structural integrity and prevent water damage.
At Bluebird Foundation Repair & Waterproofing, we are proud to serve foundation repair in Brighton, MI area for all kinds of foundation needs. Give us a call today! Outside of foundation repair, we also offer basement waterproofing, crawlspace waterproofing, egress windows and seawall repair throughout Brighton.